A high-profile former supporter of President Donald Trump, Anthony Scaramucci, spoke at a conference in New York that I attended.
Scaramucci is famous for getting fired after an 11-day stint as communications advisor in the Trump White House.
He has some valuable insights on the unsettled state of US politics.
Anthony Scaramucci, known as "Mooch", was a Trump supporter for several years. For eleven days in 2017 he held the job of Communications Director in the White House, before he was fired by then Chief of Staff John Kelly.
Scaramucci comes from a blue-collar background, with his father working construction and his mother staying at home in a Long Island, New York neighborhood. He was attracted to Donald Trump, the candidate, because Trump articulated some of the things that needed to be fixed for the working class, a group left behind by the trend to globalization and trade. He also viewed Trump as the candidate who could reduce the regulatory burden that some view as a restraint for business. And third, he saw Trump as someone who could fix the overly complicated tax code. But Scaramucci says that Trump's been a major disappointment.
In his keynote address, Scaramucci criticized President Trump on the China trade war, the withdrawal from the Iran agreement and for attacking Jerome Powell, chair of the Federal Reserve.
Anthony Scaramucci is also a very successful fund manager who founded Skybridge Capital in 2005. His firm invests money for wealthy clients and institutions. Clients with the kind of money that he seeks are often Republican and many were Trump supporters, at least in the beginning.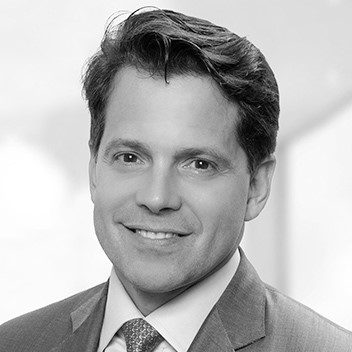 Anthony Scaramucci - Photo source: http://www.skybridge.com/about
So, when Scaramucci turned from enthusiastic supporter to outspoken critic it's a watershed event, assuming he's representing the views of his acquaintances and clients.
Scaramucci, in a revealing Vanity Fair article in August 2019, says that Trump's blatant racism was the red line for him. He added that Trump is narcissistic and has no empathy.
Scaramucci also hinted in his talk that Trump is showing signs of cognitive decline. Trump's personality is changing, and he doesn't listen to any advisors. Scaramucci says that Trump is lacking leadership skills and management ability. He's a bully who can't put a coalition together. "The guy's nuts," he says.
The Mooch claims that Trump probably will resign once it becomes clear that he will be impeached, or he cannot win the 2020 election. If he doesn't quit, Scaramucci feels that Republicans need to force him out. That can be done with a primary challenge, or by approaching him with an offer of blanket amnesty for his crimes in exchange for stepping down or by supporting the Democrats in their impeachment process.
In a chat after lunch, he indicated that many Washington insiders are very upset with Trump. According to Scaramucci, Trump has alarmed them with his erratic behavior and by siding with the enemies of the US. Some insiders are actively working to find a way to end Trump's term as President before next March.
If long-time Republican supporters are turning on Trump, the Trump presidency will probably end soon.
This increases the chances that the Democratic nominee will win the election next November. Senator Elizabeth Warren is now the front runner. See last week's note for more information. Scaramucci says that Warren probably won't win, but if she does, she's not as radical as her policy program. But Warren would be a significant change from a Republican government.
The shift to more progressive policies if a Democrat takes over the White House could have a major impact on US stock market valuations.
Hilliard MacBeth
The opinions expressed in this report are the opinions of the author and readers should not assume they reflect the opinions or recommendations of Richardson GMP Limited or its affiliates. Assumptions, opinions and estimates constitute the author's judgment as of the date of this material and are subject to change without notice. We do not warrant the completeness or accuracy of this material, and it should not be relied upon as such. Before acting on any recommendation, you should consider whether it is suitable for your particular circumstances and, if necessary, seek professional advice. Past performance is not indicative of future results. The comments contained herein are general in nature and are not intended to be, nor should be construed to be, legal or tax advice to any particular individual. Accordingly, individuals should consult their own legal or tax advisors for advice with respect to the tax consequences to them, having regard to their own particular circumstances.. Richardson GMP Limited is a member of Canadian Investor Protection Fund. Richardson is a trade-mark of James Richardson & Sons, Limited. GMP is a registered trade-mark of GMP Securities L.P. Both used under license by Richardson GMP Limited.