The Bank of Canada hiked rates again, to the not-very-elevated level of 1.25 percent. The reasons given were the strong economy and an inflation rate that has reached the 2 percent target.
But Governor Poloz warned that "raising the policy rate too quickly would risk stalling the expansion" and Carolyn Wilkins, Deputy Governor, in response to a reporter's question, said that she is losing sleep over the elevated level of household debt.
Will Canadian central bankers lose their nerve before they finish raising rates?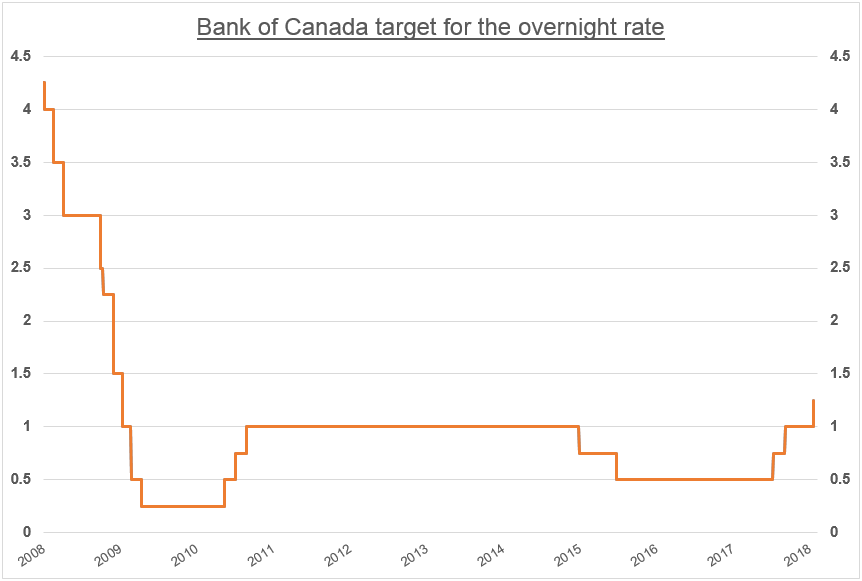 Source: The Bank of Canada
Governors of the Bank of Canada have a tough job. When the time in the cycle comes to remove the punch bowl and end the debt-fueled consumption party they face a difficult task. Because of this, central bankers often lose their nerve before their actions start to bite. In fact, the last central banker that ruined the party deliberately was Paul Volcker in the early 1980s.
At that time inflation was running above 10 percent for several years and the U.S. Federal Reserve hiked rates to the stratosphere. Short-term rates reached 20 percent and long-term bond rates peaked out at 15 percent. Those rates eventually brought the party to a halt and a recession, stock market crash and a severe correction in house prices followed.
So why all this angst over an increase to the modest level of 1.25 percent in the policy rate? Other rates have moved higher, such as the 5-year Canada bond rate which touched 2 percent, up from its low of 0.50 percent. But no one would argue that 1.25-2 percent is even close to punitive. In fact the bank says that the neutral rate is approximately 2.5 to 3.5 percent. So there's a long way to go before the policy level of rates becomes a serious headwind.
But, still, they are worried.
The Bank of Canada explains it like this, in the January 2018 Monetary Policy Report (MPR) released Wednesday:
"Elevated levels of household debt are likely to amplify the impact of higher interest rates on consumption, since increased debt-service costs are more likely to constrain some borrowers, forcing them to moderate their expenditures."
Consumption makes up a large part of GDP; estimated in Canada to be 58 percent, about average in the developed world.
Since most people purchase some of their expenditures with borrowed money, especially housing and cars, the effect on consumption of an increase in rates can be substantial.
As I've shown in many previous Notes, Canada has one of most indebted household sectors in the developed world. At 100 percent of GDP household debt is high enough that some Canadian families are barely able to make their payments on mortgages, auto loans and credit cards.
Recently household debt has been growing at 7 percent per year, while GDP grew at 3 percent. Household debt has doubled in the last decade, from $1 trillion to almost $2 trillion.
So a small increase in interest rates will have a much larger negative impact on consumption and the economy than in previous downturns. In 1990, prior to that recession, mortgage debt was only $240 billion compared to $1.5 trillion today.
The obvious conclusion: When personal debts are extremely high increasing the cost of debt will have a bigger impact. But since debts have never been at these levels before, we don't know how big an impact.
So the Bank of Canada's other worries, which they spend much more time discussing, such as NAFTA, capacity constraints, wage growth and inflation pressures will turn out to be minor in their impact. The real danger would come from a consumer-driven slowdown in housing investment, consumption and housing prices.
Are they worried enough about the right things?
Hilliard MacBeth
The opinions expressed in this report are the opinions of the author and readers should not assume they reflect the opinions or recommendations of Richardson GMP Limited or its affiliates. Assumptions, opinions and estimates constitute the author's judgment as of the date of this material and are subject to change without notice. We do not warrant the completeness or accuracy of this material, and it should not be relied upon as such. Before acting on any recommendation, you should consider whether it is suitable for your particular circumstances and, if necessary, seek professional advice. Past performance is not indicative of future results. The comments contained herein are general in nature and are not intended to be, nor should be construed to be, legal or tax advice to any particular individual. Accordingly, individuals should consult their own legal or tax advisors for advice with respect to the tax consequences to them, having regard to their own particular circumstances.. Richardson GMP Limited is a member of Canadian Investor Protection Fund. Richardson is a trade-mark of James Richardson & Sons, Limited. GMP is a registered trade-mark of GMP Securities L.P. Both used under license by Richardson GMP Limited.