OPEC met this week and decided to extend the crude oil production cuts to the end of 2018.
The persistent glut in crude oil inventories is difficult to shrink while U.S. production continues to grow, primarily from shale oil fields.
Will the production cuts be enough to keep the oil price above $50? Or will prices plunge as OPEC has lost control of the market?
The OPEC (and some non-OPEC) countries met on Thursday this week and decided to extend the production cuts agreed in October 2016. That meeting was unique because Russia, a large non-OPEC producer, joined the attempt to control the supply of oil on the market by asking members to cut production. As I wrote last December, OPEC's attempts to restrain their production might not work as it is giving US shale oil producers the prices they need to grow their production even faster.
Rystad Energy forecasts domestic US oil production could surpass 9.9 million barrels per day by end of December 2017. All of the recent increases come from US shale regions, mostly in Texas. Costs have been steadily declining for shale oil to an average of less than $40. Production cuts by OPEC have pushed prices above $55 per barrel, allowing a very comfortable profit margin for all shale producers.
Russia agreed in December 2016 to support OPEC and Thursday Russia again appeared to go along with an extension of the previously agreed cuts. But Russia has complained publicly about the US shale producers taking advantage of OPEC.
The agreement in late 2016 called for total cuts of about 1.8 million b/d and was to expire in March 2018. OPEC's share of those cuts was about 1.2 Mb/d with the Saudis doing most of the heavy lifting.
As it happened inventories remain at the high end of the range throughout 2017, although they did drop a bit.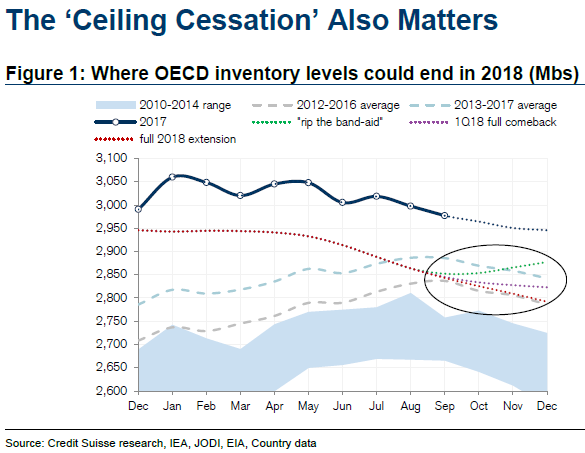 Source: Credit Suisse
The dark blue line at the top shows just how elevated inventories of crude oil in the developed world remain, even after those cuts agreed last year.
The red dotted line on the chart shows a forecast for 2018 with inventories coming down to "normal" levels by the year-end, if OPEC and non-OPEC members stick to their cuts. The 2016 agreement was extended to the end of 2018.
The main culprit keeping too much supply in the market is the ever-expanding US oil production coming from new shale oil discoveries in the Texas region. Growing deliveries from new Canadian heavy oil plants are contributing to the glut also.
Perhaps in a mistaken belief that inventories would be much lower by now speculators went "long" the crude oil contract in early 2017 which pushed the price higher by 100% from below $30 but there's no clear path to higher oil prices until that excess OECD inventory is depleted. If inventory continues to stay at these levels there could be a sell-off by impatient speculators that would drop the price below $50 again. On the other side of the equation demand for crude might improve as economic growth worldwide picks up.
West Texas Intermediate Crude Price (USD)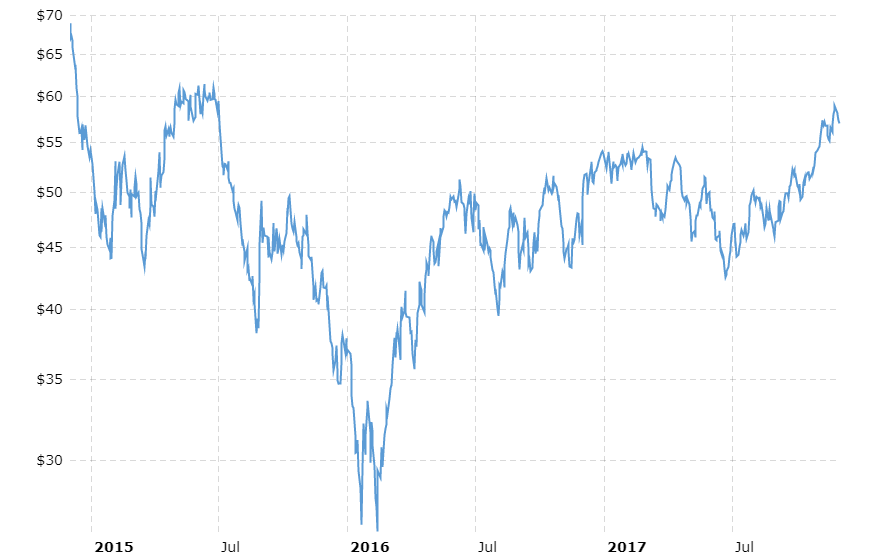 Source: MacroTrends
Watch the news from OPEC over the next few months. The price of WTI could go either way, depending on OPEC and non-OPEC adherence to the agreement and the trends for increased supply and weak seasonal demand. But the biggest risk for crude oil prices is to the downside, unless the glut of inventories disappears soon.
Hilliard MacBeth
The opinions expressed in this report are the opinions of the author and readers should not assume they reflect the opinions or recommendations of Richardson GMP Limited or its affiliates. Assumptions, opinions and estimates constitute the author's judgment as of the date of this material and are subject to change without notice. We do not warrant the completeness or accuracy of this material, and it should not be relied upon as such. Before acting on any recommendation, you should consider whether it is suitable for your particular circumstances and, if necessary, seek professional advice. Past performance is not indicative of future results. The comments contained herein are general in nature and are not intended to be, nor should be construed to be, legal or tax advice to any particular individual. Accordingly, individuals should consult their own legal or tax advisors for advice with respect to the tax consequences to them, having regard to their own particular circumstances.. Richardson GMP Limited is a member of Canadian Investor Protection Fund. Richardson is a trade-mark of James Richardson & Sons, Limited. GMP is a registered trade-mark of GMP Securities L.P. Both used under license by Richardson GMP Limited.