Why didn't I invest in Bitcoin?
We hear that lament often, especially as the aging bull market in stocks shows signs of weakness. However, the cryptocurrency mania, while interesting, has a long way to go before developing into a reputable long-term investment.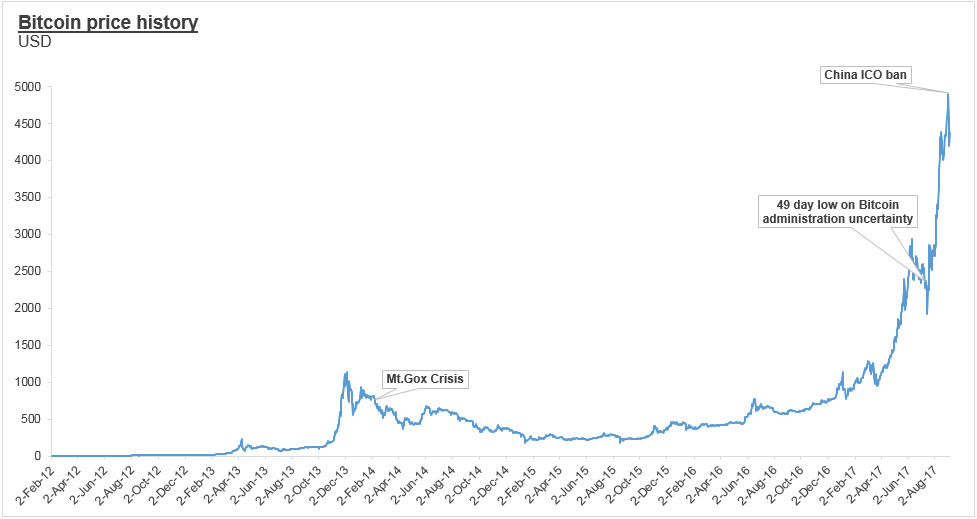 Sources: investing.com, The MacBeth Group
If you held $1,000 of Bitcoin in July 2010 and kept it, you would be worth $40 million today. But buyers today, at these prices, are betting that there will be a bigger fool to bid up the value even further later, much like tulip bulbs in 1600 or Toronto houses in March 2017.
There are very few reasons, other than speculation, for buying at these prices. Bitcoin and other cryptocurrencies, while promising as future means of exchange, show few of the characteristics of being ready today. For one thing, they are illiquid. Transactions cost over US$4 in fees and take hours to confirm.
Look also at the number of cryptocurrencies available — 1,101 on coinmarketcap.com. Bitcoin is the market leader with a total capitalization of CA$87 billion. Next is Etherium, Bitcoin cash (faster transacting peer to peer version of Bitcoin), Ripple, Litecoin and a few others.
Cryptocurrencies appeal to those who are skeptical of fiat currency or cannot trust central banks and governments. Unlike paper money no central bank can "print" a cryptocurrency to manipulate the money supply. Most cryptocurrencies have complex barriers to production of new "coins", making adding new supply difficult. Total supply is capped. All units of a particular cryptocurrency are identified by their unique serial number and transaction history – in Bitcoin's case the blockchain.
According to supporters, cryptocurrencies are superior to their more tangible counterparts in several ways:

Source: bitcoincash.com
Originally popular as untraceable tender for black marketeers, Bitcoin has morphed into something more mainstream. It has become a fascination of Wall St. traders via entities like the Bitcoin trust. However, no Bitcoin exchange-traded funds have been approved by the SEC yet.
Back in 2010, Bitcoin "mining" was a simple process that desktop computers could manage. Now, with 16,561,563 Bitcoins in circulation it's becoming increasingly difficult for miners because the competition is tough and the required computing power is growing. Bitcoin supply is capped at 21,000,000 so value erosion due to inflation is not likely to be an issue. But Bitcoin is notorious for volatility. In just one month, the price of the digital currency swung almost 60%. The large selloff that happened last weekend was the result of China outlawing "initial coin offerings".
There have been some serious issues. The largest Bitcoin exchange, Mt.Gox in Japan, unexpectedly went bankrupt in February 2014. When the dust settled, Mt.Gox announced that 850,000 Bitcoins – at the time valued at US$450 million – were either missing or stolen.
For any cryptocurrency to become viable as a medium of exchange, store of value and investable asset, three features are needed:
Transaction settlement must be universal and instantaneous
Hours for settlement is inappropriate for commerce and a Bitcoin in one country must be worth the same in another. Inefficiencies still exist in many foreign exchange markets.
Enhanced Security
With users being the managers of cryptocurrencies, crises like Mt.Gox and risks associated with wallet security like hacking need to be guaranteed. Would individual countries allow their deposit insurance schemes to cover the cryptocurrency wallets of their citizens?
Support by business
Stock offerings have yet to be underwritten in a cryptocurrency. Nor can one open a bank account denominated in a cryptocurrency. With news that 6 major banks are embarking on a project to use blockchain technology to track digital cash settlement, there are signs that business is warming to the idea of cryptocurrencies.
Until these conditions are met cryptocurrencies will be viewed as risky like a casino.
Stay clear, for now.
Fraser Betkowski
The opinions expressed in this report are the opinions of the author and readers should not assume they reflect the opinions or recommendations of Richardson GMP Limited or its affiliates. Assumptions, opinions and estimates constitute the author's judgment as of the date of this material and are subject to change without notice. We do not warrant the completeness or accuracy of this material, and it should not be relied upon as such. Before acting on any recommendation, you should consider whether it is suitable for your particular circumstances and, if necessary, seek professional advice. Past performance is not indicative of future results. The comments contained herein are general in nature and are not intended to be, nor should be construed to be, legal or tax advice to any particular individual. Accordingly, individuals should consult their own legal or tax advisors for advice with respect to the tax consequences to them, having regard to their own particular circumstances.. Richardson GMP Limited is a member of Canadian Investor Protection Fund. Richardson is a trade-mark of James Richardson & Sons, Limited. GMP is a registered trade-mark of GMP Securities L.P. Both used under license by Richardson GMP Limited.