The Brexit process, started with a June 2016 referendum, continues to wind forward. But stress over Brexit is taking a toll on the life of British people, especially those in London. Business investment is suffering and the pound sterling is trading lower against most currencies.
Will Britain survive the Brexit process? Is it just a "spot of bother" or something more?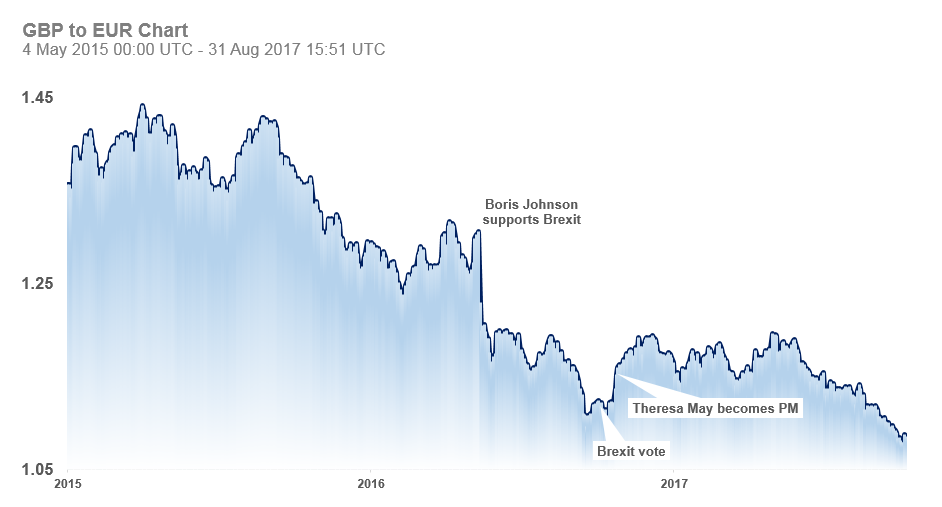 Sources: ThomsonOne, The MacBeth Group
The British Prime Minister, Theresa May, triggered the Brexit process in late March 2017. Since then the march to Brexit, and possibly a "hard" Brexit, has continued. The pound sterling looks headed for parity with the Euro, compared to a high of 1.42 before the referendum.
How did things get to this point? In June 2016 the British people, about 36% of those eligible (almost 52% of those that voted), expressed the desire to leave the European Union in a referendum. See my Weekend Note from April 7, 2017.
In a surprising twist, three months after the exit process started, the British people voted in a "snap" general election on June 8 2017. Prime Minister Theresa May of the Conservative Party, lost the slim majority enjoyed by that party since 2015. It's not clear if those losses were from dissatisfaction with the Brexit process or a disappointment with May's leadership.
One option is to hold another referendum. Polling on how Brits would vote in a second referendum show that the result might change from the "Leave" vote to a slight preference to "Remain" in the EU. For example, in a London School of Economics/Opinium poll 60 per cent of Britons said that they would like to retain EU citizenship after Brexit.
Perhaps more important for the next election, that polling shows that more than 85 per cent of young people, aged 18-24 years, and more than 80 per cent of those living in London want to keep their citizenship in the EU.
How Londoners feel matters a great deal. The financial core, "The City" is the world's most important financial centre, unless you talk to people in Manhattan. But even Wall Street denizens would admit, off the record, that the London financial centre plays a very important role in trading and finance. Taxes paid by City firms cover much of the cost of government for London and Britain. Real estate prices in London are dependent on highly paid financial executives and traders. And the Conservative party needs votes from the financial elite in London.
And lurking in the background, but not unseen, is the image of Jeremy Corbyn, left-wing leader of Labour. Announcing a new Brexit policy on August 27, Corbyn called for a four-year transition period inside a customs union and the single market. This is a tilt to a pro-Europe position designed to appease some factions in his party. It also offers the Remainers some faint hope that electing Labour might avoid Brexit altogether. Given those polls, younger people could welcome this, making it an astute move if they come out to vote.
But Corbyn's ascent would likely speed up the exit of some jobs and firms due to political ideology, even if Brexit is slowed or canceled. According to The Economist (September 1, 2017) consultants are predicting a loss of 75,000 to 83,000 jobs in finance from the City of London. And that's just based on Brexit worries, not a possible Labour victory at the next election.
House prices in London are showing signs of weakness, if not outright declines. The asking price of homes for sale dropped by 2.4 per cent in June 2017, a first since 2009. Not yet an outright decline in prices but an indication that the boom might be over.
If hard Brexit appears likely, or if Jeremy Corbyn and his Labour party take over the government, the trickle of those leaving now could turn into a rush for the exit.
More like a 'sticky wicket' than a 'spot of bother'.
Hilliard MacBeth
The opinions expressed in this report are the opinions of the author and readers should not assume they reflect the opinions or recommendations of Richardson GMP Limited or its affiliates. Assumptions, opinions and estimates constitute the author's judgment as of the date of this material and are subject to change without notice. We do not warrant the completeness or accuracy of this material, and it should not be relied upon as such. Before acting on any recommendation, you should consider whether it is suitable for your particular circumstances and, if necessary, seek professional advice. Past performance is not indicative of future results. The comments contained herein are general in nature and are not intended to be, nor should be construed to be, legal or tax advice to any particular individual. Accordingly, individuals should consult their own legal or tax advisors for advice with respect to the tax consequences to them, having regard to their own particular circumstances.. Richardson GMP Limited is a member of Canadian Investor Protection Fund. Richardson is a trade-mark of James Richardson & Sons, Limited. GMP is a registered trade-mark of GMP Securities L.P. Both used under license by Richardson GMP Limited.