The current period of rapid growth in China's debt burden will end at some point. Some analysts believe that China will be in crisis in 2017 while others maintain that China can continue to borrow more indefinitely.
Can China's debt bubble just keep getting bigger forever?
Let's take an up-to-date look at exactly how big China's mountain of debt is.
Here's the private sector portion of the debt, one of the largest in relation to GDP of any country. Canada's debt load on the private sector is similar at 200 percent of GDP, except that the split in Canada is divided equally between household and corporate. China is weighted more toward the corporate side.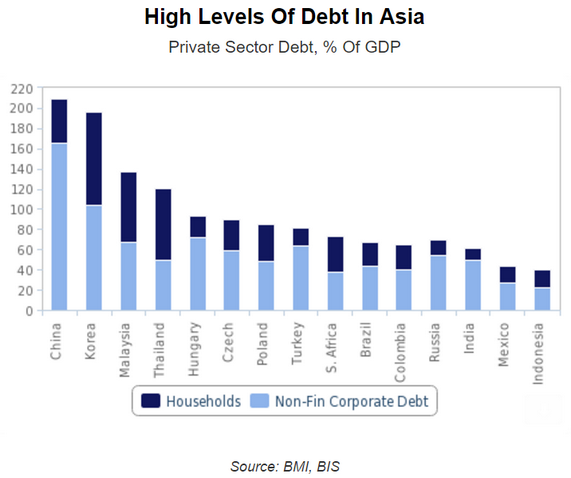 Source: BMI and BIS
As we learned from Richard Vague in The Next Economic Disaster private sector debt is much more important in predicting a financial crisis than government debt. Two metrics make good predictors of a coming crisis — the absolute level of debt being greater than 150% of GDP and the pace of growth in the ratio of debt to GDP. Vague contends that a growth rate exceeding 18 percentage points in that ratio in five years is the trigger for a crisis. Those two conditions are easily met in China today, as they were in Canada and Australia recently also.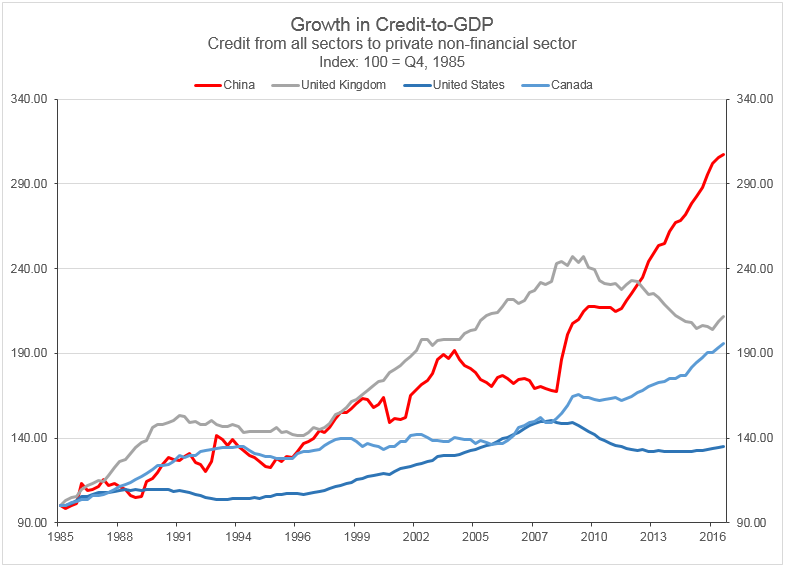 Source: BIS, The MacBeth Group
Obviously China's debt load has grown even more quickly since the 2009 Global Financial Crisis. China chose to reflate its economy using private sector debt as the main engine.
As we discussed in the March 10, 2017 Weekend Note, China and Canada were singled out by the Bank for International Settlements as two of the worst offenders in the debt growth category.
Economist Edward Hyman from ISI Evercore Partners was interviewed on March 28, 2017 by Bloomberg. He said, "China's a mess and at some point it's going to blow up. They have a ton of debt, which is unsustainable."
According to BCA Research Inc, the Chinese authorities have periodically tried to slow down the growth rate of debt. But there hasn't been any sustained attempt since January 2009.
During those periods of tightening prior to 2009 the economy would slow and the all-important residential real estate market would weaken, leading to widespread concern. Government officials would then reverse course, pumping money into the economy through the banks and expanding the rate of growth of debt in an attempt to reinvigorate the growth in the economy. Each time they did this the debt ballooned and the growth rate slowed.
One bright spot is the fact China's government debt load is still manageable. But that will only remain true if the government doesn't have to bail out the banking system and large state-owned enterprises.
BCA Emerging Markets Strategist Arthur Budaghyan contends that something will happen to burst the bubble, although he doesn't give a forecast for when. He points to bank lending as a major problem:
The PBOC Has Begun Targeting Rates in Recent Years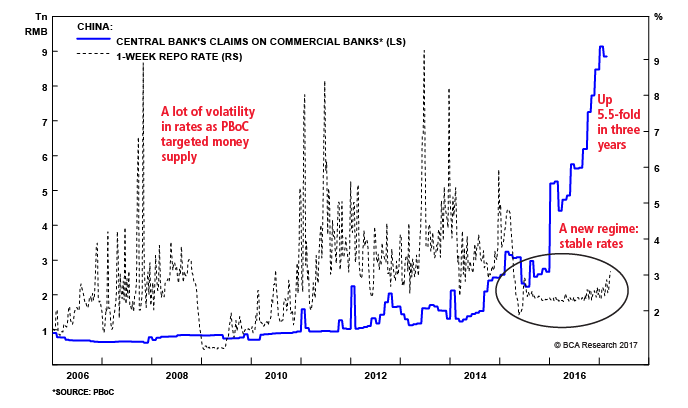 Source: BCA Research Inc.
The central bankers have kept interest rates low, while allowing the bank loans outstanding to expand at rates seldom seen elsewhere. And he points out that such rapid increases in bank loans are going to be a problem.
"I do not believe even the most sophisticated financial/credit systems can allocate such amounts of credit in such a short time and not misallocate capital. By capital misallocation, I am implying investments in projects that do not generate sufficient cash flow to service debt."
Arthur Budaghyan BCA "Does China have too much debt" March 23 2017
Arthur says that we should watch for interest rates and inflation as signs of an impending crisis. If inflation hits 3 percent, interest rates will have to rise and rapid debt growth will come to an end.
Let's give the last word to an American economist who is famous for saying: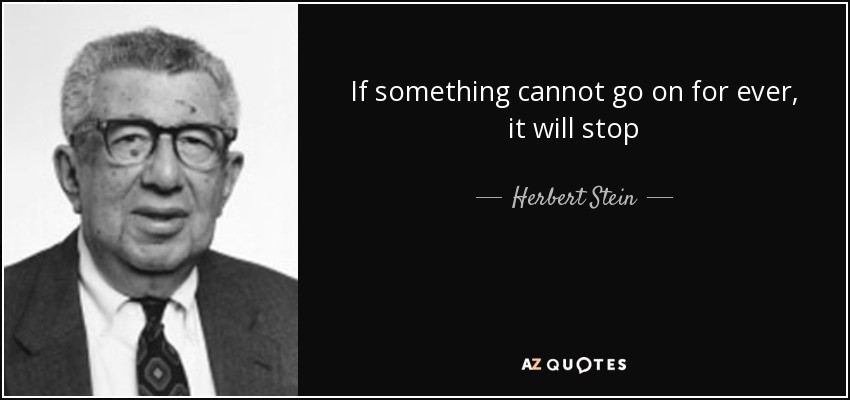 He's less well known as the father of Ben Stein, the actor and author.
Hilliard MacBeth
Hilliard, The MacBeth Group team and their clients may trade in securities mentioned in this blog.
The opinions expressed in this report are the opinions of the author and readers should not assume they reflect the opinions or recommendations of Richardson GMP Limited or its affiliates. Assumptions, opinions and estimates constitute the author's judgment as of the date of this material and are subject to change without notice. We do not warrant the completeness or accuracy of this material, and it should not be relied upon as such. Before acting on any recommendation, you should consider whether it is suitable for your particular circumstances and, if necessary, seek professional advice. Past performance is not indicative of future results. The comments contained herein are general in nature and are not intended to be, nor should be construed to be, legal or tax advice to any particular individual. Accordingly, individuals should consult their own legal or tax advisors for advice with respect to the tax consequences to them, having regard to their own particular circumstances.. Richardson GMP Limited is a member of Canadian Investor Protection Fund. Richardson is a trade-mark of James Richardson & Sons, Limited. GMP is a registered trade-mark of GMP Securities L.P. Both used under license by Richardson GMP Limited.