Toronto home prices are soaring, up 20.9 per cent in the last year, according to Teranet-National Bank. One justification for this unusual price jump cited in recent media articles is the possibility that record numbers of people are moving to the Greater Toronto Area, pushing up prices.
Is population growth really the main factor in pushing Toronto home prices higher? And how does Toronto compare to Alberta for population growth and home price gains?
My associate Fraser Betkowski looked at data just released by Statistics Canada on Toronto's population growth from 2006 to 2016. And data from Teranet-National Bank show an impressive climb in house prices for that decade as well as the aforementioned recent jump.
If Toronto prices were being pushed by a population boom it would appear in this data.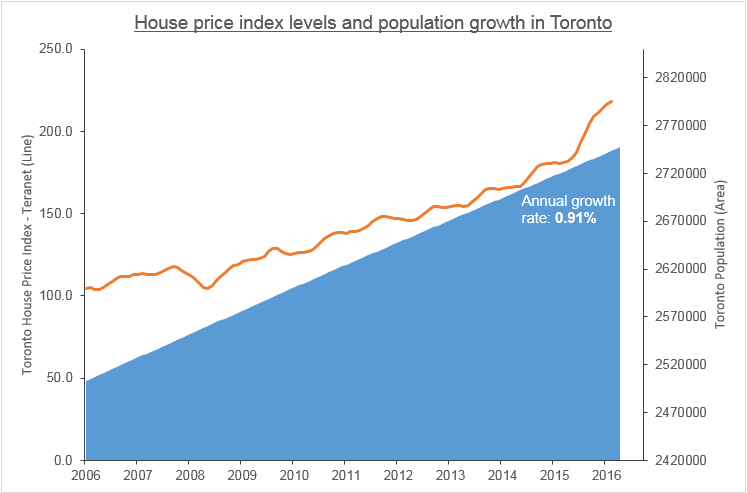 Sources: Statistics Canada, Teranet-National Bank House Price Index
Toronto population grew from 2.5 million to about 2.73 million people in the period. This equates to a growth rate of 0.91 per cent per annum. For the Greater Toronto Area (GTA), including many surrounding communities, the population in 2006 was 5.9 million and in 2016 it is 6.4 million, a similar growth rate of less than 1 per cent annually (GTA not shown on graph). But house prices more than doubled as shown by the orange line on the graph.
In defiance of this solid evidence of modest population growth from the recent census, people still contend that rapid population growth is the cause of house price gains. A January 10, 2017 piece in the Huffington Post titled "Oh look, another reason for Toronto prices to soar" quotes an economist:
"If that pace persists, it will add more than 0.3 percentage points to overall provincial population growth, nothing to snicker at for one of Ontario's size," said Robert Kavcic, a senior economist at Bank of Montreal.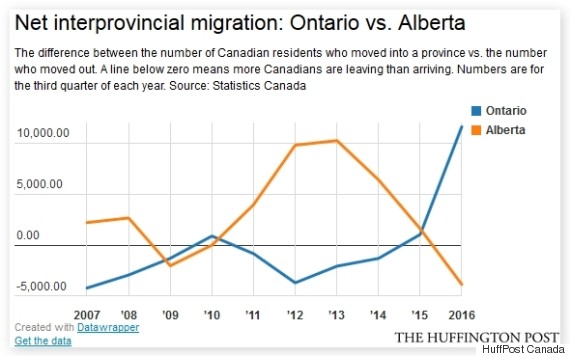 Source: The Huffington Post
Ontario's interprovincial migration was negative for most of the decade except in 2016, when about 10,000 people showed up. On total Ontario population of 14 million this 10,000 person blip is not sufficient justification for a surge in house prices. And what about the preceding eight years when migration was negative but prices doubled? Even if all of the new people went only to Toronto, that would be a drop in the bucket for a city of 2.8 million, or the GTA with over 6.1 million. Of course, there is also immigration from other countries and new births minus deaths, but all of that would be included in the data for total population.
About ten years ago, stories were repeated every day about all of the people moving to Edmonton and Calgary. And it turns out that those anecdotes were real, as confirmed by Statscan: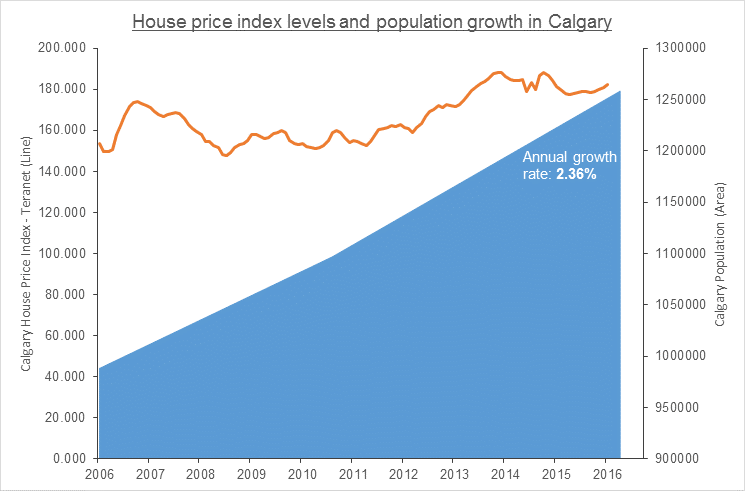 Sources: Statistics Canada, Teranet-National Bank House Price Index
This is growth of 2.36 per cent, or almost 2.5 times the Toronto growth rate. And Edmonton: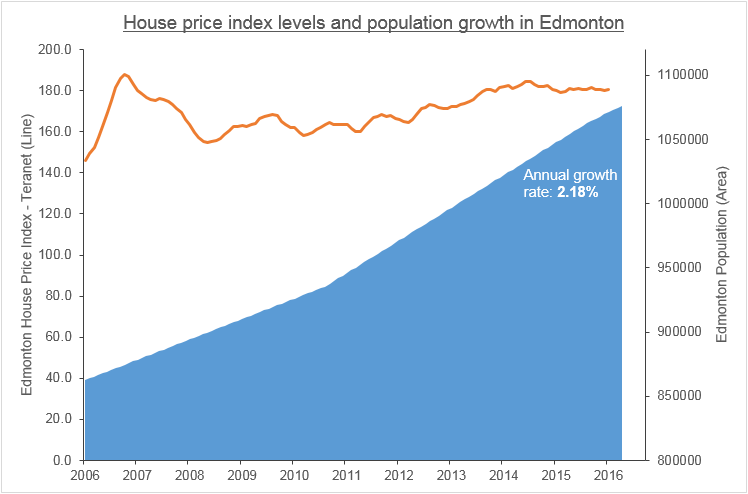 Sources: Statistics Canada, Teranet-National Bank House Price Index
Again, more than double the Toronto rate of growth. Edmonton and Calgary populations include their surrounding areas.
But in spite of very strong population growth in Alberta, house price gains were modest. In Edmonton prices are up, but lower than the 2007 peak, even with 200,000 new inhabitants. Calgary house prices were up, but very slightly compared to Toronto's doubling of prices.
The gain in population for Edmonton and Calgary together was about 450,000 people, on a total base combined of less than 2 million, very impressive growth indeed.
The bottom line: huge population gains in Alberta cities did not lead to spiking house prices in the last decade while modest numbers of new Toronto residents could not have caused the surge in house prices there.
Pundits need to keep looking for a justification for unprecedented house price gains in the Greater Toronto Area. The population growth story just doesn't stand up to close inspection.
So, if it isn't new people moving to Toronto that created the housing bubble, what could it be?
My guess is that the real reason is quite simple. People are in the grips of a speculative mania, pushing them to chase house prices higher and higher. This has happened many times in history, in many different countries.
Greed and "FOMO" — fear of missing out — are powerful psychological forces that can push many people to make irrational choices.
Hilliard MacBeth
Hilliard, The MacBeth Group team and their clients may trade in securities mentioned in this blog.
The opinions expressed in this report are the opinions of the author and readers should not assume they reflect the opinions or recommendations of Richardson GMP Limited or its affiliates. Assumptions, opinions and estimates constitute the author's judgment as of the date of this material and are subject to change without notice. We do not warrant the completeness or accuracy of this material, and it should not be relied upon as such. Before acting on any recommendation, you should consider whether it is suitable for your particular circumstances and, if necessary, seek professional advice. Past performance is not indicative of future results. The comments contained herein are general in nature and are not intended to be, nor should be construed to be, legal or tax advice to any particular individual. Accordingly, individuals should consult their own legal or tax advisors for advice with respect to the tax consequences to them, having regard to their own particular circumstances.. Richardson GMP Limited is a member of Canadian Investor Protection Fund. Richardson is a trade-mark of James Richardson & Sons, Limited. GMP is a registered trade-mark of GMP Securities L.P. Both used under license by Richardson GMP Limited.