It's official; it is a housing bubble. One senior Canadian economist said so:
"Let's drop the pretence. The Toronto market — and many cities surrounding it — are in a housing bubble." From a recent report by Douglas Porter, Chief Economist, BMO Capital Markets.
Up until now, there was no consensus about Canada's housing bubble. But with Mr. Porter's pronouncement, the bubble, at least in Toronto, is officially recognized.
Will the discussion about possible solutions get more urgent?
One very odd thing about Canada's housing market is the fact that most of the commentaries come from economists employed by the largest lenders. These profit-seeking firms have a lot at stake as their biggest business is lending to households in the form of mortgages, lines of credit, credit cards and auto loans. If the housing bubble bursts, they will suffer.
As explained in "When the Bubble Bursts" Canadian lenders profit from the extension of credit to Canadian households. And house values are the most common form of collateral for those loans. If the collateral declines in value, the size and number of loans will shrink. And, much more serious, losses could balloon, if people default on their loans during the next recession.
Here's my graph of the ratio of household debt to GDP (red line) and its unsustainable rate of growth as well as house prices in Toronto, Vancouver and nationally.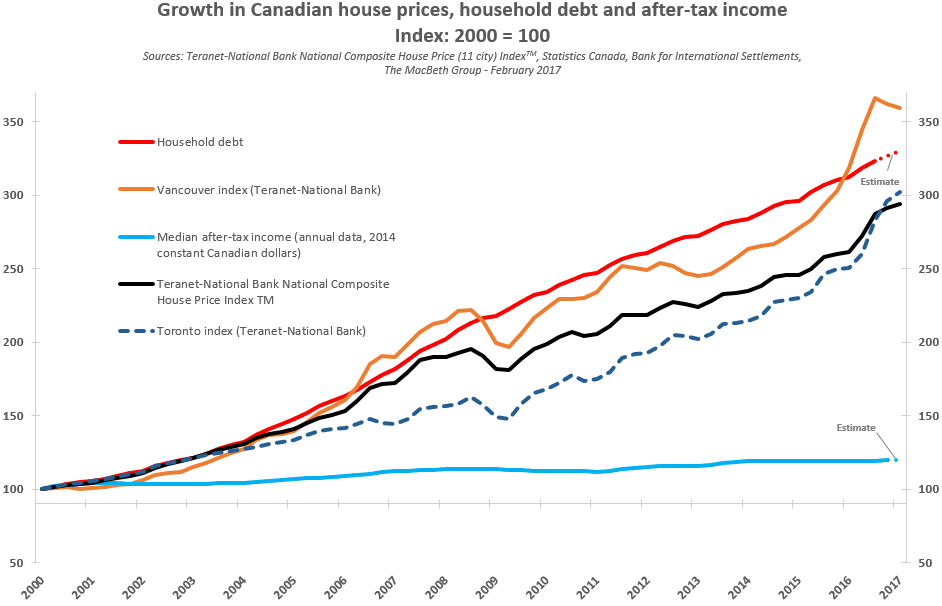 Source: The MacBeth Group
This graph shows clearly the relation between debt growth, house price increases, and wages.
Much of this debt growth would have been impossible without the housing bubble. And the corollary is true: The housing price bubble couldn't have grown so large without unprecedented growth in household debt.
Household debt has more than tripled since 2000, with the index starting at 100 and now above 300. Household debt is even more stretched in the key housing markets of Toronto and Vancouver. From the Bank of Canada's December 2016 Financial System Review:
This table shows the proportion of newly originated mortgages that are greater than 450 per cent of income: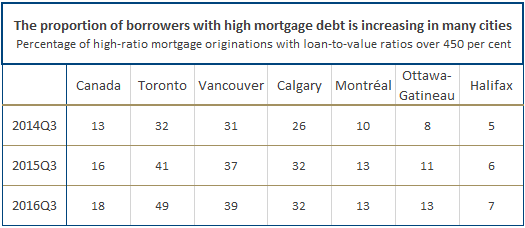 Source: Statistics Canada and Bank of Canada calculations – Last observation 2016 Q2
By borrowing more than 450 per cent of income, big-city borrowers are putting themselves at risk. Most are first-time buyers.
If Canada brought in a cap on lending at 4.5 times income, as the UK has done, almost half of the new buyers in Toronto might be unable to buy. Here's what the Telegraph reported in London, England in December, 2016:
"The BoE (Bank of England) has limited the number of loans that banks can make to home buyers who want a mortgage 4.5 times bigger than their incomes."
Some senior officials are starting to openly discuss the housing bubble. One of the most vocal is the head of Canada's mortgage insurance agency, the CMHC. The CMHC and two other mortgage insurers guarantee (for the lenders) $1 trillion of Canadian mortgages, making the Canadian taxpayer the ultimate backstop for these loans, if households start to default in large numbers.
Evan Siddall, CEO of CMHC, advised Canada's Finance Minister Morneau to make changes to limit the amount that the average person can borrow and to tighten rules on mortgage guarantees. But Siddall hinted that he would like to see the government do more.
In a November, 2016 speech to the Bank of England Siddall said:

House builders, realtors, land developers, the CMHC, Canadian lenders, industry regulators and the Finance Minister all have a lot at stake in what happens next. But none has more at risk than the record-high 69 per cent of Canadian households who own homes. And even more at risk are those who've bought recently with very large mortgage loans.
Perhaps now that an economist with a large Canadian lender has officially declared the housing market a "bubble" Canadians can start working on a solution that minimizes the amount of damage that the inevitable correction will cause.
Hilliard MacBeth
Hilliard, The MacBeth Group team and their clients may trade in securities mentioned in this blog.
The opinions expressed in this report are the opinions of the author and readers should not assume they reflect the opinions or recommendations of Richardson GMP Limited or its affiliates. Assumptions, opinions and estimates constitute the author's judgment as of the date of this material and are subject to change without notice. We do not warrant the completeness or accuracy of this material, and it should not be relied upon as such. Before acting on any recommendation, you should consider whether it is suitable for your particular circumstances and, if necessary, seek professional advice. Past performance is not indicative of future results. The comments contained herein are general in nature and are not intended to be, nor should be construed to be, legal or tax advice to any particular individual. Accordingly, individuals should consult their own legal or tax advisors for advice with respect to the tax consequences to them, having regard to their own particular circumstances.. Richardson GMP Limited is a member of Canadian Investor Protection Fund. Richardson is a trade-mark of James Richardson & Sons, Limited. GMP is a registered trade-mark of GMP Securities L.P. Both used under license by Richardson GMP Limited.