Some people see housing as an investment, as well as a place to live. Many believe that their house will be a great investment. Alternative investments like the stock market, or government bonds, don't seem as attractive.
We compared house price gains and stock market returns during the last sixteen years.
House prices climbed steadily throughout the entire period since September 2000, with a brief and small dip during the 2009 crisis. Stock markets, on the other hand, have experienced greater volatility. House prices rose faster than stock markets over the entire period, gaining approximately 6.8 percent annually, compounded.
Since the market bottom reached near the depths of the global financial crisis in March 2009, the stock markets of North America have performed well. The housing market in Canada, unlike house prices is the U.S., also steadily climbed in most major cities.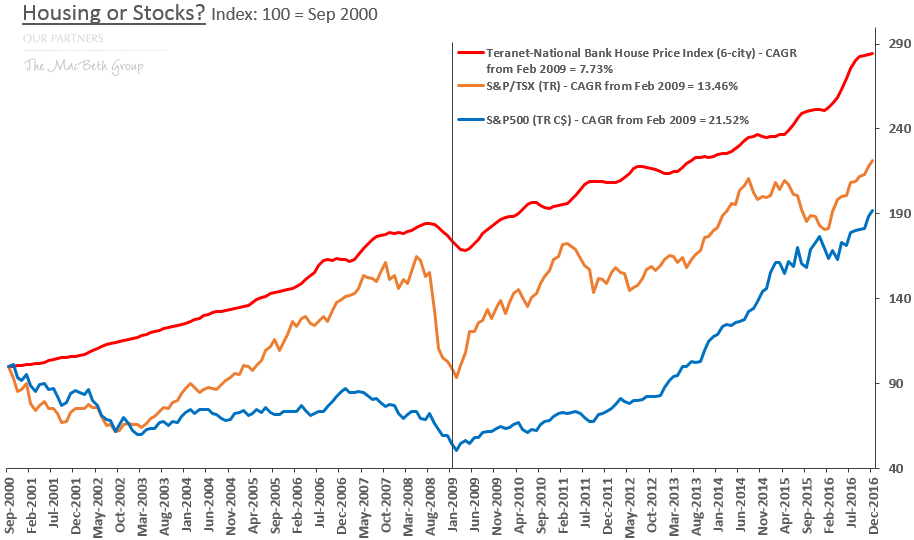 Source: The MacBeth Group, S&P Capital IQ, Teranet-National Bank House Price Index
This chart shows the steady growth in house prices (red line) in the six largest markets in Canada — Toronto, Vancouver, Montreal, Calgary, Edmonton and Ottawa —and compares that to the value of the stock markets in New York, as measured by the S&P 500 (blue line) and the S&P TSX (orange line) representing Canadian stocks. We've included dividends in the stock market returns.
A couple of things jump out. First, it's easy to see why people are comfortable with housing as an investment during the last sixteen years, as there wasn't any major sell-off in the value of houses in Canada during that period. On the other hand, the stock markets suffered two significant bear markets. The first break was in 2000-2002, a meltdown triggered by the bursting of the dot-com bubble. And then the big one, the global financial crisis, where values dropped by about sixty percent in Canada and almost 50 percent in the U.S. Along with those corrections came a great deal of negative news flow, such as bankruptcies, government bailouts and dire predictions about the end of capitalism.
To many people, large positive and negative swings in return means elevated risk. Volatility scares them.
Second, stock market returns since 2009 after the second stock market crash have been much better than in Canadian housing. This is measured by the annual compound growth where houses did a respectable 7.7 percent but stocks leaped higher by double digit annual returns, especially in the U.S. at more than 21 percent annually
What is likely to happen next?
One of the key differences between stock market returns and the housing market is the mortgage debt expansion required to achieve house price growth. In Canada there has been a trebling of household debt as measured by mortgages outstanding in sixteen years.
Mortgage debt is now about $1.4 trillion, up from $437 billion in September 2000 (StatCan Table 176-0069). This growth is about 7.5 percent annually, compounded, almost identical to the growth in the value of housing.
After several significant changes to CMHC mortgage insurance qualification rules in 2016 it's a safe bet that 7 percent growth in mortgage debt is impossible in the next decade, especially when income growth is less than 3 percent. This puts the housing market's rapid price growth at risk of a slowdown or something worse.
And this makes the complacency engendered by the steady climb of house prices very dangerous for Canadians. After such a long period of piling on more and more debt, there's a significant number of Canadian families that would get into financial trouble if something similar to a US-style 34 percent correction were to hit the housing market now.
It's important to be vigilant about valuation in all asset classes, including housing. Long periods of low volatility and rapid price increases engender complacency but are often followed by sudden breaks, as seen in U.S. housing in 2005-2010.
Hilliard MacBeth
Hilliard, The MacBeth Group team and their clients may trade in securities mentioned in this blog.
The opinions expressed in this report are the opinions of the author and readers should not assume they reflect the opinions or recommendations of Richardson GMP Limited or its affiliates. Assumptions, opinions and estimates constitute the author's judgment as of the date of this material and are subject to change without notice. We do not warrant the completeness or accuracy of this material, and it should not be relied upon as such. Before acting on any recommendation, you should consider whether it is suitable for your particular circumstances and, if necessary, seek professional advice. Past performance is not indicative of future results. The comments contained herein are general in nature and are not intended to be, nor should be construed to be, legal or tax advice to any particular individual. Accordingly, individuals should consult their own legal or tax advisors for advice with respect to the tax consequences to them, having regard to their own particular circumstances.. Richardson GMP Limited is a member of Canadian Investor Protection Fund. Richardson is a trade-mark of James Richardson & Sons, Limited. GMP is a registered trade-mark of GMP Securities L.P. Both used under license by Richardson GMP Limited.