The increase in government spending promised by President-elect Donald Trump could be a big boost for the economy, as stock market bulls obviously believe.
But if that spending pushes economic demand only it could lead to higher inflation. And if inflation rises too quickly Chair Janet Yellen of the Federal Reserve has indicated a willingness to raise interest rates aggressively, in defiance of what the new President wants.
Is a major confrontation between the White House and the Federal Reserve inevitable?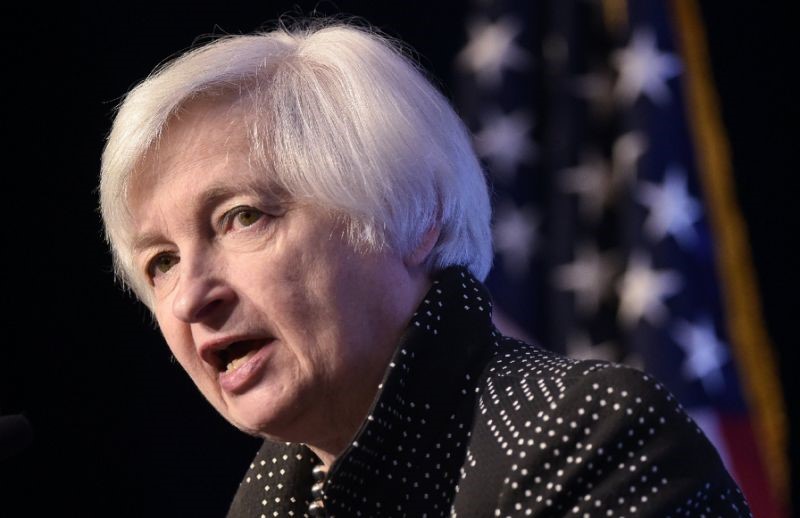 Source: Yahoo News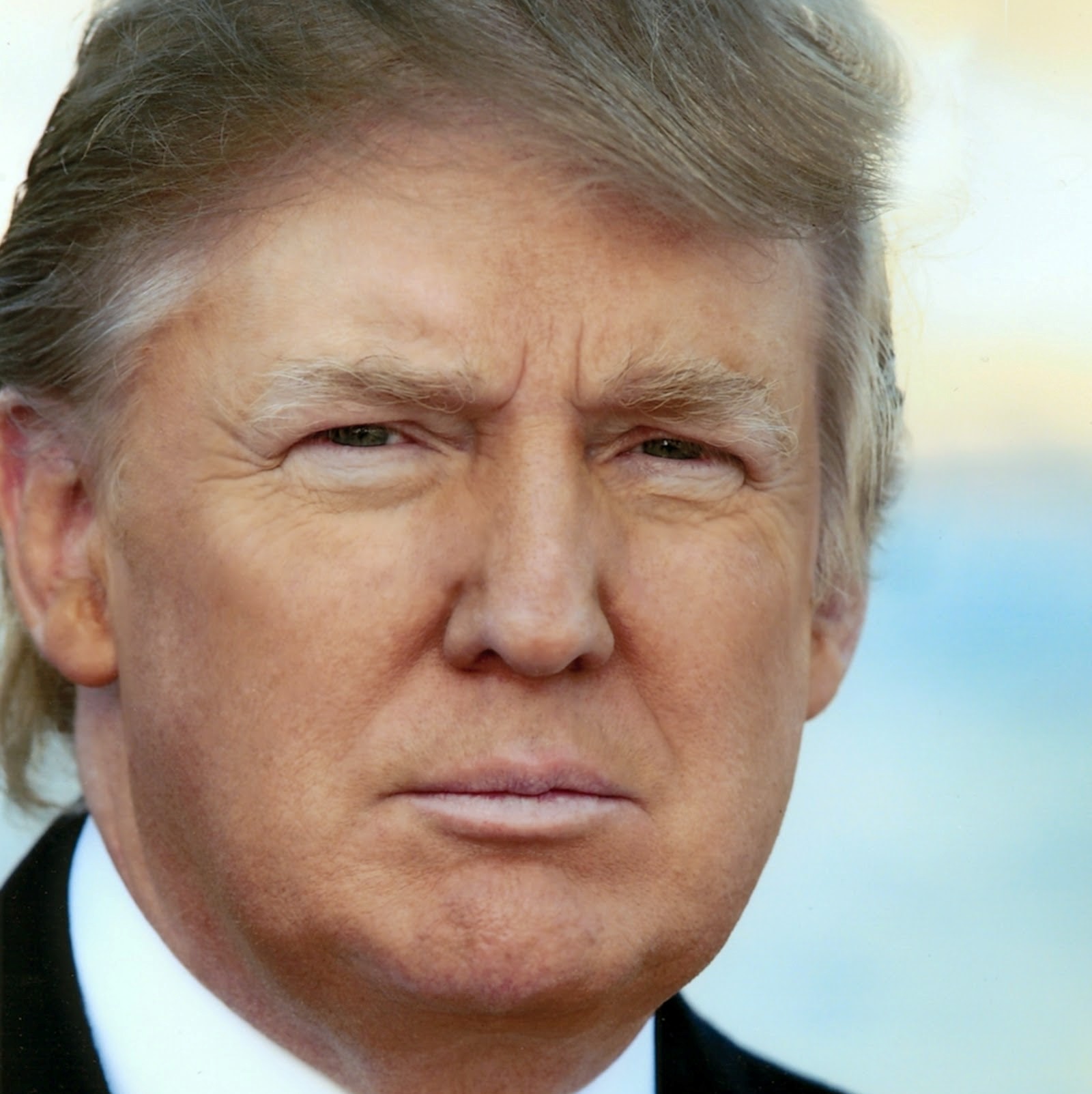 Source: Associated Press
If history is a guide, there may be a significant boost in government spending under President-elect Donald Trump.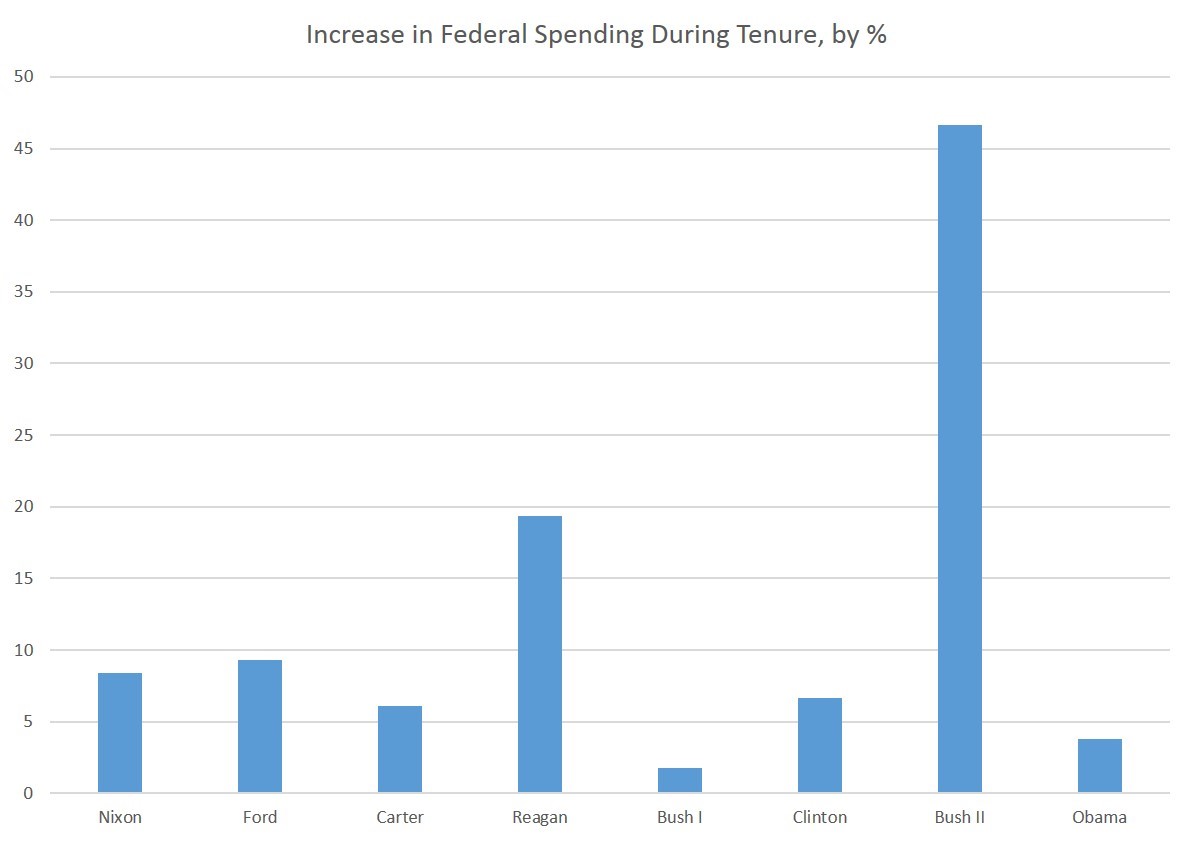 Source: Congressional Budget Office of the United States
Notice how government spending always goes up, never down. And under Republicans, spending in some cases increases faster than under Democrats. Presidents George W. Bush and Ronald Reagan spent the most with their enthusiasm for defense spending one of the biggest factors.
President Obama showed impressive spending restraint, partly because the Republican faction known as the "Tea Party" refused to approve spending increases.
As one wit said, "Republicans are not really against government spending; just spending by Democrats."
So will there be a Reagan-style boost to spending under a Congress and White House controlled by Republicans? The three top campaign promises for stimulus are tax cuts to top income earners, corporate tax cuts and infrastructure spending for roads and highways.
Given unemployment is close to the lowest level in eight years, at 4.7%, there aren't many people left unemployed. It might be hard to find workers for the new projects approved with new government dollars without offering wage increases.
As well, there are many workers that have been working for many years without a wage increase, and they might feel that it is their turn to demand higher pay. That trend to higher wages shows in the January 6, 2017 report.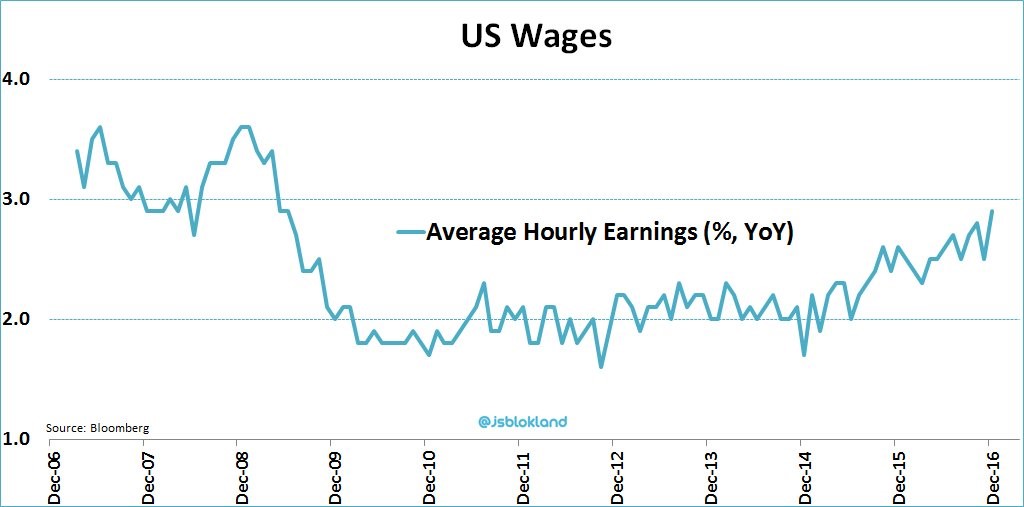 Source: Bloomberg
With wage growth close to 3 percent, how does the Fed justify short-term rates below 1 percent?
Inflation appears to be gaining momentum also.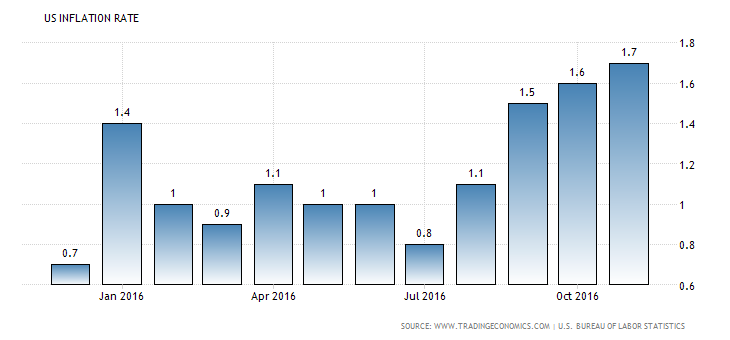 Source: TradingEconomics.com
The Open Market Committee of the Federal Reserve will have some tough decisions to make. Will they feel that it's their job to "lean against" the fiscal spending boost by raising interest rates faster than is currently contemplated?
In answering questions after the December 14, 2016 meeting, Chair Janet Yellen seemed to be targeting President-elect Trump's policies directly:
"So I would say at this point that fiscal policy is not obviously needed to provide stimulus to help us get back to full employment. But, nevertheless, let me be careful that I am not trying to provide advice to the new Administration…" Emphasis added.
It seems President-elect Trump and Chair Yellen are on course for a head-on collision. Chair Janet Yellen, appointed by President Obama, has about a year to go on her term. And traditionally the Fed is independent from the White House and cannot be removed by a new President.
Chair Yellen has no intention of stepping down.
"No I cannot," she said when asked by Rep. Carolyn Maloney if there were circumstances under which she might leave before her term expires. "I was confirmed by the Senate to a four-year term, which ends at the end of January of 2018, and it is fully my intention to serve out that term."
You can watch the full interview here.
Keep a close watch on inflation, interest rates and the tension between soon-to-be President Donald J. Trump and Chair Janet Yellen of the Federal Reserve.
Hilliard MacBeth
Hilliard, The MacBeth Group team and their clients may trade in securities mentioned in this blog.
The opinions expressed in this report are the opinions of the author and readers should not assume they reflect the opinions or recommendations of Richardson GMP Limited or its affiliates. Assumptions, opinions and estimates constitute the author's judgment as of the date of this material and are subject to change without notice. We do not warrant the completeness or accuracy of this material, and it should not be relied upon as such. Before acting on any recommendation, you should consider whether it is suitable for your particular circumstances and, if necessary, seek professional advice. Past performance is not indicative of future results. The comments contained herein are general in nature and are not intended to be, nor should be construed to be, legal or tax advice to any particular individual. Accordingly, individuals should consult their own legal or tax advisors for advice with respect to the tax consequences to them, having regard to their own particular circumstances.. Richardson GMP Limited is a member of Canadian Investor Protection Fund. Richardson is a trade-mark of James Richardson & Sons, Limited. GMP is a registered trade-mark of GMP Securities L.P. Both used under license by Richardson GMP Limited.