The hypothetical question I've been asked most frequently in dozens of interviews is about the impact of rising rates on house prices. This week the Federal Reserve raised their target rate again, for only the second time in many years. And interest rates on bonds and mortgages are already substantially higher than levels seen a short time ago.
What will be the impact on Canada's economy and housing from the push to higher interest rates?
The context of the interviewer's favourite question is usually that rising rates would be one of the greatest risks to the continuation of the extraordinary house price gains of the last sixteen years. Now that rising rates have arrived, their impact on housing and the economy will be tested.
Since Canada is deemed to be tied at the hip to U.S. interest rates, it is worth our time to look at the Fed's actions of this week.
From the Press Release from the Federal Reserve Board of Governors:
Source: The Federal Reserve
The Fed seems comfortable with the inflation rate at this time, even though Core CPI is above 2 percent, the Fed's stated target. The Fed recognizes the elevated inflation risk:
"Market-based measures of inflation compensation have moved up considerably."
The Fed uses a different inflation measure, called the PCE or the "annual change in the price index for the personal consumption expenditure". This measure, at 1.74 percent, is below their 2 percent target.
Source: St. Louis Fed, The MacBeth Group
Perhaps this chart of inflation using the more popular CPI and Core CPI is what the market is watching while the Fed stays calm. Core CPI has been increasing since 2014 and has been above 2 percent for more than a year. Core CPI removes goods like food and energy which are prone to wider price changes from the consumer price index 'basket of goods'. It is a more accurate measure of long-term inflation.
In spite of the Federal Reserve's restraint, yields on mortgages and bonds have moved, in a "bigly" way.
Yes, bigly is a word.
Last Friday morning the U.S. 10-year was at 2.43 percent. This Friday morning it reached 2.60 percent, just one week later.
Rates on ten-year government of Canada bonds were about 1 percent in Canada just a few weeks ago. On December 9 as shown the Canada 10-yr was at 1.71. Last night, after the hikes, those same rates finished at 1.84 percent, for an increase of 84 percent!
Selected rates from December 9 and the 52-week range: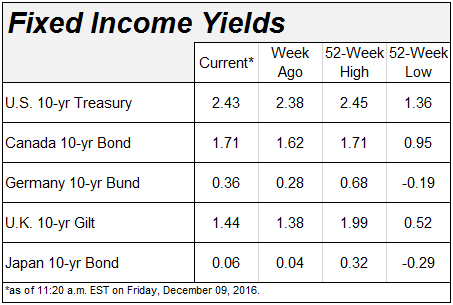 Source: TD Economics
Rates around the world have soared even prior to the Fed's 0.25 increase. It seems that something was driving rates higher before the Fed's rate hike.
Canadian rates on government bonds, especially the five-year maturity are used by lenders to set mortgage rates. Canadian bond yields are tightly linked to U.S. yields, usually. So, in a normal world, higher U.S. yields lead to higher Canadian mortgage rates.
The 5-year Government of Canada bond bottomed below 0.50 percent and now yields 1.22 percent.
Are these substantial interest rate increases going to bite?
Until now, there has been nearly universal acceptance that an increase in interest rates could be the catalyst to burst the Canadian housing bubble.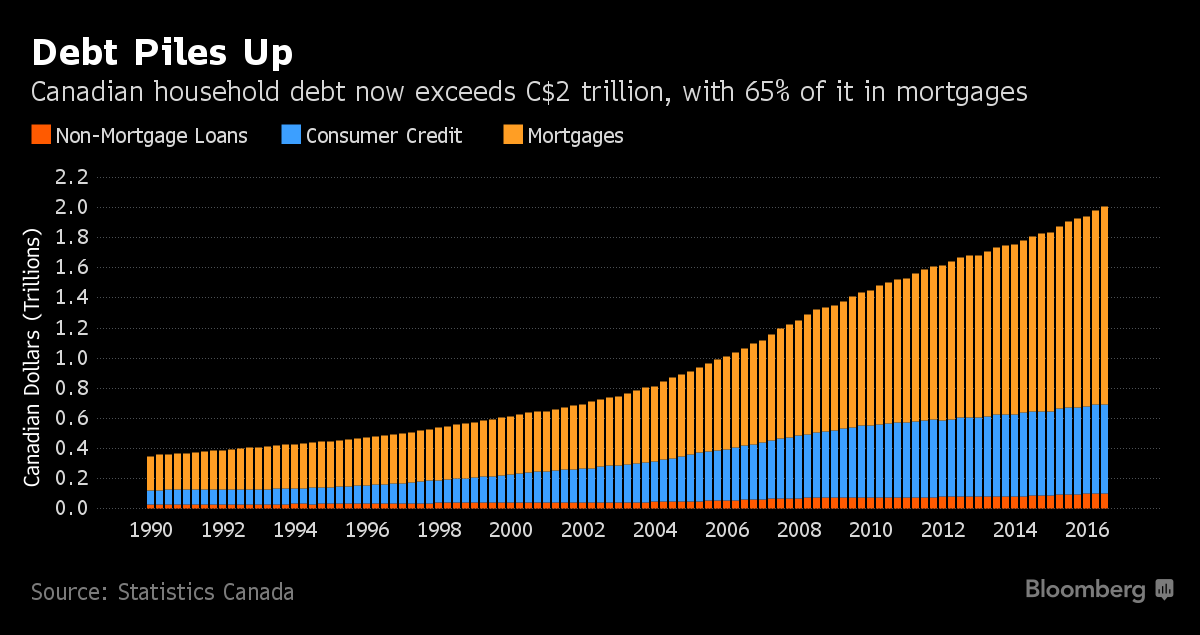 Source: Bloomberg
This chart shows the growth in mortgage debt from 2000, from about $400 billion, to today's level of $1.3 trillion — more than triple, matching the rise in home prices in many major cities.
With Canadian household debt at record levels, higher rates matter. When home buyers try to buy a house for the first time, when baby boomers refinance to support their offspring to buy a house, when mortgages come up for renewal at higher rates — everyone will feel the impact. Consumer spending will be affected as people find more of their money goes to interest on mortgage payments and car loans and less is available for a vacation, restaurant outings or home renovations.
The Canadian economy will feel the change at showrooms in the new housing subdivision and condo sales offices, the car dealers' showroom and the shopping mall.
The best path for highly-indebted individual Canadian families is to assume that rates will go higher and to reduce the amount of debt owed, as quickly as possible.
Hilliard MacBeth
Hilliard, The MacBeth Group team and their clients may trade in securities mentioned in this blog.
The opinions expressed in this report are the opinions of the author and readers should not assume they reflect the opinions or recommendations of Richardson GMP Limited or its affiliates. Assumptions, opinions and estimates constitute the author's judgment as of the date of this material and are subject to change without notice. We do not warrant the completeness or accuracy of this material, and it should not be relied upon as such. Before acting on any recommendation, you should consider whether it is suitable for your particular circumstances and, if necessary, seek professional advice. Past performance is not indicative of future results. The comments contained herein are general in nature and are not intended to be, nor should be construed to be, legal or tax advice to any particular individual. Accordingly, individuals should consult their own legal or tax advisors for advice with respect to the tax consequences to them, having regard to their own particular circumstances.. Richardson GMP Limited is a member of Canadian Investor Protection Fund. Richardson is a trade-mark of James Richardson & Sons, Limited. GMP is a registered trade-mark of GMP Securities L.P. Both used under license by Richardson GMP Limited.