One surprising discovery from my research on house prices is that two of the largest bubble countries, Canada and Australia, have very low population densities while a country with much higher density, Germany, had no housing bubble at all.
How did Germans experience flat house prices in a much more crowded country?
The housing bubbles in Canada and Australia are extreme, compared to three other developed countries.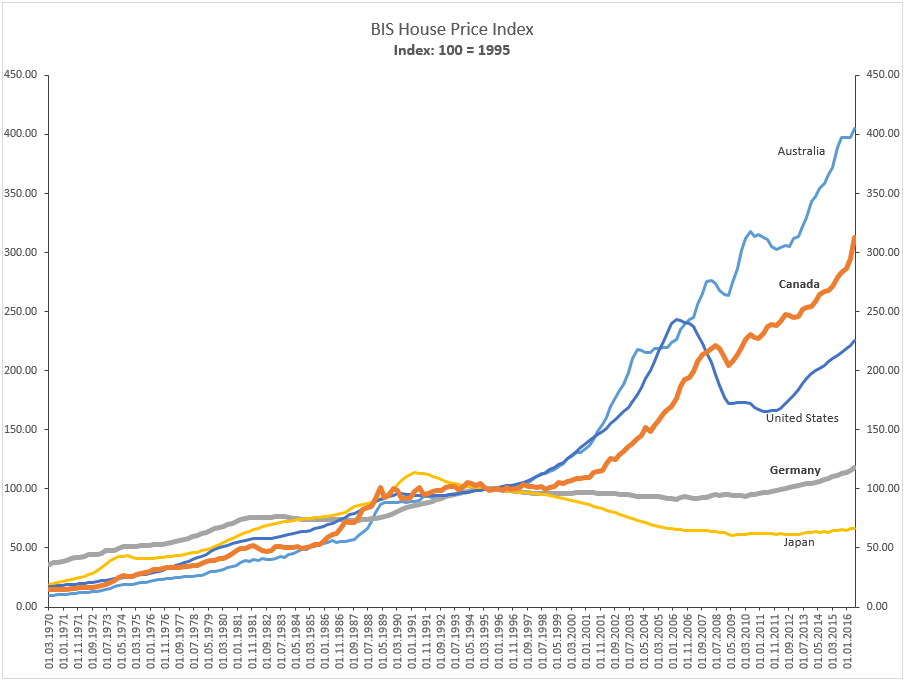 Source: Bank of International Settlements, The MacBeth Group
Two of those countries, the U.S. and Japan, had housing bubbles and corrections, while Germany (the gray line) never had a bubble at all.
Why did Germany avoid a housing bubble, a country with more than 82 million on a small land mass in the centre of Europe? Here's what all of Germany looks like compared to one small part of Canada: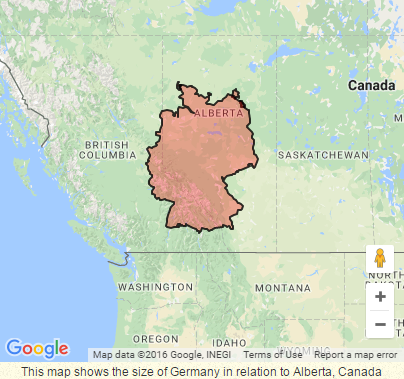 Source: ifitwermyhome.com
If all German residents moved to Alberta, making a combined population of more than 86 million people, the population density would actually decrease for the people from Germany.
What is the Canadian view on lack of supply and crowding? Here's an excerpt from the survey of housing needs released recently regarding the problem of affordability in Canada's large cities:

Source: Let's Talk Housing – Nov 2016
But are high housing costs in Canada's major cities due to lack of land?
Here are the densities in the largest German cities:

Source: Wikipedia, The MacBeth Group
The density in Munich is the highest in Germany at 4,355 people per km2.
Here's Canada:

Source: Statistics Canada, The MacBeth Group
Toronto has a density of 945 population per square kilometre. Vancouver, the city that is often touted as lacking room to build, has a density of 802.
So Munich is more than 4 times as dense as Toronto and 5 times more packed than Vancouver.
One difference that could explain this puzzle, in part, is the fact that Germans are much more likely to rent than own their home. In Canada, home ownership is at record high levels of about 70 percent, similar to the U.S. in 2005, while in Germany comparable numbers are 45 percent. German renters are protected:

Source: Forbes
Home buyers in Germany are required to have higher down payments before purchasing a home, starting at 20 percent and ranging higher depending on family circumstances.
When I met a German skier at a back country ski lodge in B.C., we talked about housing in Germany and Canada. When I told him about mortgage finance rules in Canada, he asked:
"Why would Canada allow anyone to buy a home with only 5 percent down payment?"
I responded that for a time in 2006 to 2008 buying a home was allowed with zero down payment. He laughed out loud, indicating that he didn't believe me, or that Canadians must be crazy.
German house buyers pay multiple taxes, including a land transfer tax at 3.5 to 6 percent. Most home buyers in Germany buy only once in a lifetime.
Prices are considered by Germans to be expensive in Munich, costing up to 900,000 Euros (Euro=1.4 Canadian $) but that's not more expensive than Vancouver or Toronto. In other cities prices look reasonable, compared to Canadian prices. There are no restrictions on foreign buyers: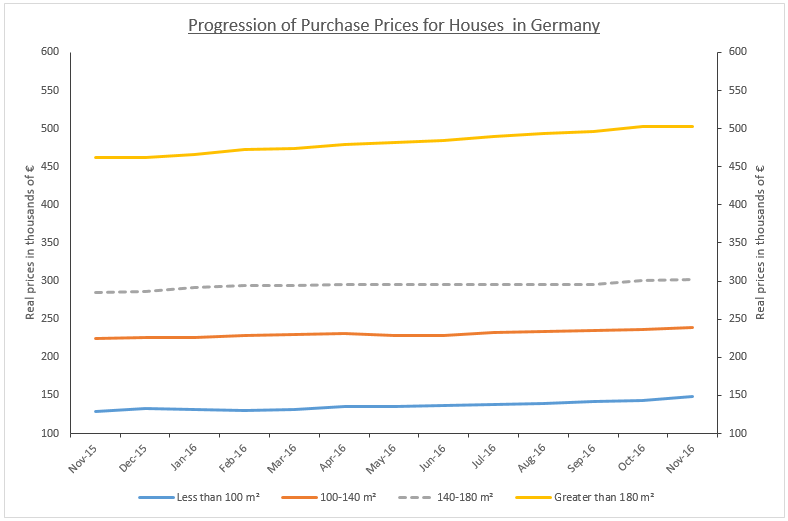 Source: howtogermany.com
To convert to square feet from metres: multiply by 10.7. The gray dotted line: 140-180 square metres = 1500 to 1937 square feet.
Because of their tendencies to rent and the barriers to entry into the German house market, it can be argued that German housing is less susceptible to the credit fueled exuberance many contend has overtaken the Canadian market. Furthermore, as can be seen in the BIS house price index, buyers in Germany are less likely to face an overwhelming seller's market as buyers in other countries on the chart have clearly faced.
Canadians could learn a lot from Germans in how to control housing costs.
One policy idea from Germany might be to eliminate built-in incentives for owning a home. Another idea might be to design government incentives that encourage more suitable family housing for rent, with controls on rent increases and eviction. It seems that changes to CMHC finance rules are a step in the right direction.
These regulatory changes may cause the Canadian real estate industry to slow but could be positive for the overall economy due to more affordable housing; lessening the requirement of homebuyers to borrow beyond their means.
Hilliard MacBeth
Hilliard, The MacBeth Group team and their clients may trade in securities mentioned in this blog.
The opinions expressed in this report are the opinions of the author and readers should not assume they reflect the opinions or recommendations of Richardson GMP Limited or its affiliates. Assumptions, opinions and estimates constitute the author's judgment as of the date of this material and are subject to change without notice. We do not warrant the completeness or accuracy of this material, and it should not be relied upon as such. Before acting on any recommendation, you should consider whether it is suitable for your particular circumstances and, if necessary, seek professional advice. Past performance is not indicative of future results. The comments contained herein are general in nature and are not intended to be, nor should be construed to be, legal or tax advice to any particular individual. Accordingly, individuals should consult their own legal or tax advisors for advice with respect to the tax consequences to them, having regard to their own particular circumstances.. Richardson GMP Limited is a member of Canadian Investor Protection Fund. Richardson is a trade-mark of James Richardson & Sons, Limited. GMP is a registered trade-mark of GMP Securities L.P. Both used under license by Richardson GMP Limited.