President-Elect Donald Trump will be the Commander-in-Chief of the most powerful nation on earth, starting in January 2017. American military might is unrivaled today as the richest nation spends a larger portion of its GDP on defense than any other large nation.
Trump has commented several times about other countries not pulling their weight in defense alliances like NATO. He has ambitious plans for expanding the U.S. military and he could insist that other countries contribute more as well.
How might his future actions as leader affect other countries in NATO? How about Canada's spending on defense?
The targeted level of spending under the North Atlantic Treaty Organization (NATO) is 2 percent. Some countries, like Greece and Estonia, spend even more than the minimum suggested. Among large countries, only the United Kingdom and the United States spend more than the target. The United States is a leader at 3.6 percent, although under President Obama this has fallen from the 5.3 percent level in 2009. Canada spends about 1 percent.
If Canada would like to get to the recommended level the government would need to increase annual spending by $18.35 billion, about double its current level. Since the federal government already runs a sizeable deficit in government spending, this would mean increased borrowing on a massive scale. This might not be politically viable when the Trudeau government is committed to a large boost in infrastructure spending too.
Obviously NATO matters the most to Europe as the pact, signed in 1948, was originally a political association but evolved as a military pact to contain the U.S.S.R. and its allies in the 1950s. As the Soviets grew more threatening, the Korean War broke out and the Cold War era arrived, NATO grew in importance.
Article 5 of the NATO treaty requires that all member states help any member that comes under armed attack. That article has been invoked only once, after the September 11, 2001 attack on the U.S. when NATO-sponsored troops deployed to Afghanistan.
Most European NATO members have been increasing their spending and are expected to spend more, while still falling short of the 2 percent target.
We can see that many European countries have room to increase their spending, although perhaps not as drastic an increase as Canada is facing. From this chart we can see that the United Kingdom and Poland are doing their part.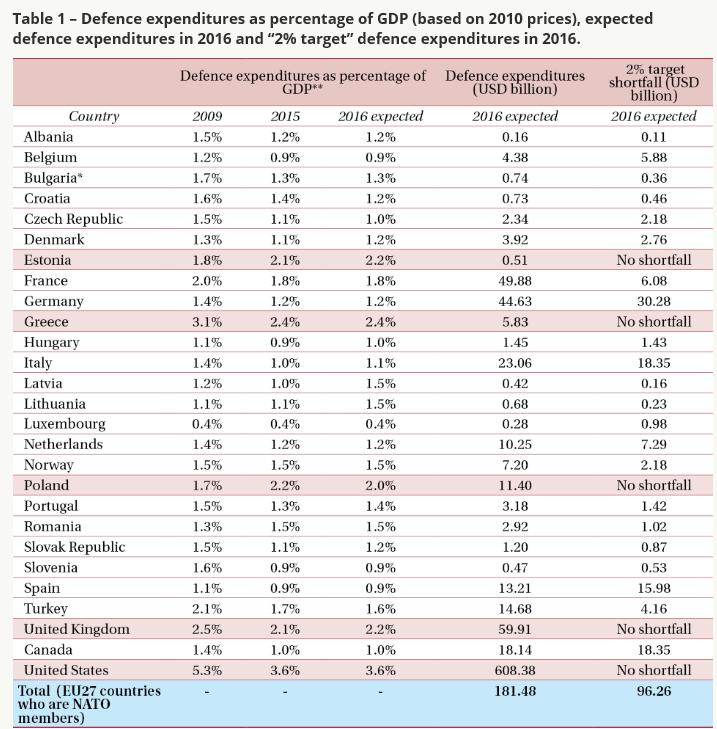 Source: Justine Feliu of Bruegel.org
There's a US$96 billion shortfall in spending but the U.S. is over its 2 percent target by more than $200 billion. Obviously Trump has a point. Does he really mean what he says about making other countries live up to their responsibilities? Germany's shortfall in dollar terms is the largest, although Canada's shortfall is larger in terms of proportion of GDP.
This is what he's said about NATO:
"We pay, number one, a totally disproportionate share of NATO. We're spending the biggest, the lion's share's paid for by us, disproportionate to other countries."
And here's his platform regarding the U.S. effort to defeat ISIS: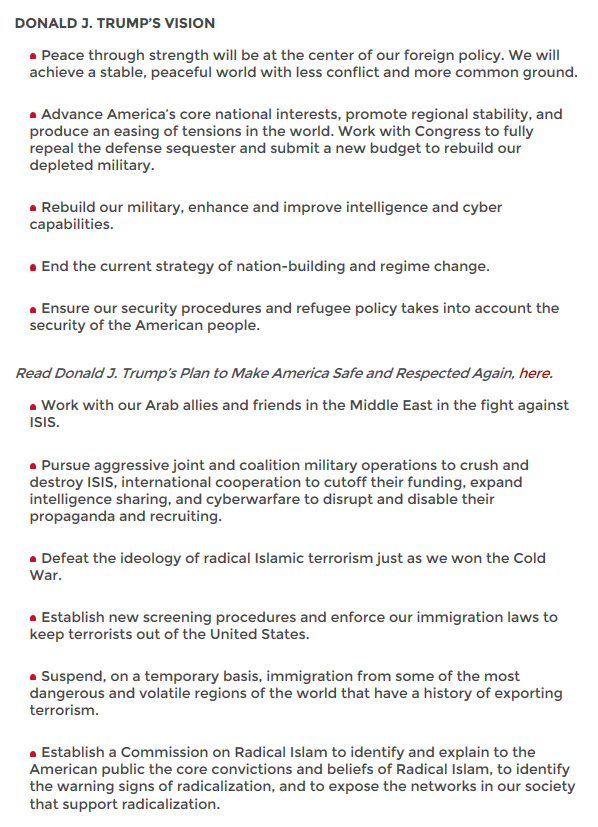 Source: donaldjtrump.com
Trump's policy proposals must have been popular with a significant number of Americans. He probably won't face much opposition in Congress to pushing ahead with the anti-terrorism agenda that involves increased military spending. And it will only help the U.S. economy since most of the companies that will benefit from this budget increase are U.S.-based.
It's a good bet that NATO members' military spending will increase at the same time as U.S. spending will get a boost. While many would argue that military spending makes war more likely, the elevated level of fear of terrorists in the U.S. and Europe makes higher levels of spending more likely.
The benign period of the last few years when the world enjoyed the so-called "Peace Dividend" are coming to an end.
Hilliard MacBeth
Hilliard, The MacBeth Group team and their clients may trade in securities mentioned in this blog.
The opinions expressed in this report are the opinions of the author and readers should not assume they reflect the opinions or recommendations of Richardson GMP Limited or its affiliates. Assumptions, opinions and estimates constitute the author's judgment as of the date of this material and are subject to change without notice. We do not warrant the completeness or accuracy of this material, and it should not be relied upon as such. Before acting on any recommendation, you should consider whether it is suitable for your particular circumstances and, if necessary, seek professional advice. Past performance is not indicative of future results. The comments contained herein are general in nature and are not intended to be, nor should be construed to be, legal or tax advice to any particular individual. Accordingly, individuals should consult their own legal or tax advisors for advice with respect to the tax consequences to them, having regard to their own particular circumstances.. Richardson GMP Limited is a member of Canadian Investor Protection Fund. Richardson is a trade-mark of James Richardson & Sons, Limited. GMP is a registered trade-mark of GMP Securities L.P. Both used under license by Richardson GMP Limited.