Canadian banks have outperformed publicly-listed banks in the rest of the world for two decades. Hamilton Capital (HC) held a conference in Toronto this week and presented their view that change is coming.
I attended the conference and was convinced by their suggestion that Canadian banks are entering uncharted territory.
Is it the end of the golden age for Canadian banks?
Hamilton Capital follows the banking sector worldwide which provides them with unique insights into the sector. They write frequently on the topic and their reports can be accessed here as well as a review of the conference.
You can see Rob Wessel founder of Hamilton Capital, on the stage at the left, talking to the CEOs if you look really closely. You can also see me in this photo, at the closest table in the lower right. The room was full with about 240 attendees.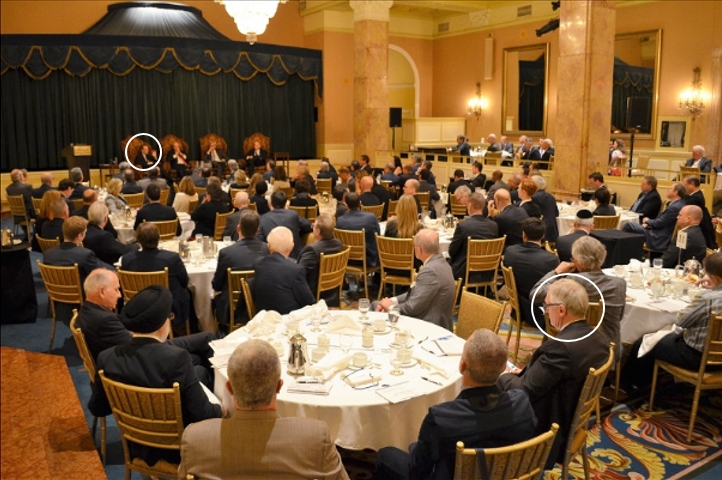 Source: Hamilton Capital
Five years ago, in May 2011, the analysts at HC predicted that the end of an era of growth for Canadian banks was near. Canadian banks had grown their earnings and dividends per share at more than 10% per annum for two decades. For example, the largest Canadian bank, the Royal Bank of Canada grew its share value more than ten-fold since 1996.
Five years on, it has turned out the forecast was prescient, although perhaps a bit early. Since 2011, RBC went from $60 per share to $83, an increase of 40% over five years, slightly less than 8 percent per annum. Not too bad, but not the same pace as the previous twenty years.
One of the most important possible headwinds is the change in regulation. The regulators are becoming more demanding regarding capital, which affects profitability.
Basel III rules require a minimum of 7% Common Equity Tier 1 (CET1) for banks.
All large Canadian banks are well above that minimum, at around 10 percent, although Bank of Montreal slipped recently to 9.7 percent.
But the regulatory regime has moved far ahead of the minimum Basel requirement in other countries with the U.S. banks at about 11.5%, while the worldwide median has risen to about 12.5%. Canadian bank CET1 ratios rank 34th out of 35 countries. So there's a good chance that Canadian regulators might push Canadian banks to increase the CET1 ratio.
Source: Basel Committee on Banking Supervision
Why are Canadian banks so low, comparatively? Because they prefer borrowing money at 1-2% as a much, much cheaper source of funding than issuing new common shares. And, in Canada, the regulators have allowed it, until now.
Another important potential drag on banks' profit is the outlook for Canadian personal and commercial banking. That segment has very little room for growth. The household debt-to-income ratio in Canada is one of the highest in the world, and Canada has been identified by the IMF and OECD as a country with a private sector debt-to-GDP ratio that is too high.
The CEOs that spoke at the conference, from the Bank of Montreal, Bank of Nova Scotia and the Royal Bank of Canada were asked to talk about their expansion plans outside of Canada. RBC showed the most advanced strategy as they discussed their recent acquisition of City National in Los Angeles. TD Bank, not at the conference, recently announced another expansion in their U.S. TD Ameritrade division. BMO made an acquisition of Private Bancorp in Chicago and Bank of Nova Scotia is moving further into Mexico and Columbia.
The problem with expansion outside of Canada is that profitability, as measured by return on equity, or ROE, is much lower. So as Canadian banks expand outside of Canada they might find that their ROEs, currently among the highest in the world, will decline to a more mediocre level.
So it's very likely to be an "end of an era" for the Canadian banks. They will survive and they will expand internationally but the double-digit annual expansion of earnings and dividends of the last two decades is over, according to HC. Shareholders in Canadian banks that are unaware of this sea change might be in for a rude shock.
Hilliard, The MacBeth Group team and their clients may trade in securities mentioned in this blog.
The opinions expressed in this report are the opinions of the author and readers should not assume they reflect the opinions or recommendations of Richardson GMP Limited or its affiliates. Assumptions, opinions and estimates constitute the author's judgment as of the date of this material and are subject to change without notice. We do not warrant the completeness or accuracy of this material, and it should not be relied upon as such. Before acting on any recommendation, you should consider whether it is suitable for your particular circumstances and, if necessary, seek professional advice. Past performance is not indicative of future results. The comments contained herein are general in nature and are not intended to be, nor should be construed to be, legal or tax advice to any particular individual. Accordingly, individuals should consult their own legal or tax advisors for advice with respect to the tax consequences to them, having regard to their own particular circumstances.. Richardson GMP Limited is a member of Canadian Investor Protection Fund. Richardson is a trade-mark of James Richardson & Sons, Limited. GMP is a registered trade-mark of GMP Securities L.P. Both used under license by Richardson GMP Limited.