The decision-making committee of The Federal Reserve Bank of the United States held another meeting this week and chose to leave rates unchanged. This non-decision comes after months and months of Fed hinting that rates must rise, as the economy is improving.
Will the Federal Reserve committee members ever raise rates? And, if they do, what happens to Canadian interest rates, the Loonie and Canadian households?
Here is the text of the decision of the FOMC, the Federal Open Market Committee that votes on interest rate decisions:

Source: Federal Reserve Board
The full statement can be found here.
A noteworthy fact — there were three dissenters. The dissenters felt that rates should rise in order to bring the economic world back in the direction of "normal". But, as someone once said, "normal doesn't live here anymore."
Perhaps in a nod to the dissenters the press release says, "The Committee judges that the case for an increase in the Federal Funds rate has strengthened."
From the press conference Q & A with Chairperson Yellen: "We are worried that bubbles could form in the economy," and "We could cause a recession, and so that's something my colleagues and I certainly wouldn't want to do."
She seems to be saying that, on the one hand, a rate increase could throw millions of Americans out of work, just as they are finally recovering from the 2008-09 financial crisis and, on the other hand, if we don't raise rates there could be new bubbles in real estate and other assets like the stock market.
Here's what she said in September 2015:
"Participants are projecting — of course there's a lot of uncertainty — but they're projecting increases that average around 100 basis points per year," said Yellen.
So this is where it gets very interesting for Canadians as 100 basis points is 1%. And there's little doubt that, unless there's a new recession, the Fed will start to raise rates again, probably in December. That would mean rates were hiked once in December 2015 and once in December 2016.
How could that impact Canadians?
The Bank of Canada has warned that 8% of Canadian households cannot handle an increase in interest rates. These households, which would number about one million, hold 20% of household debt.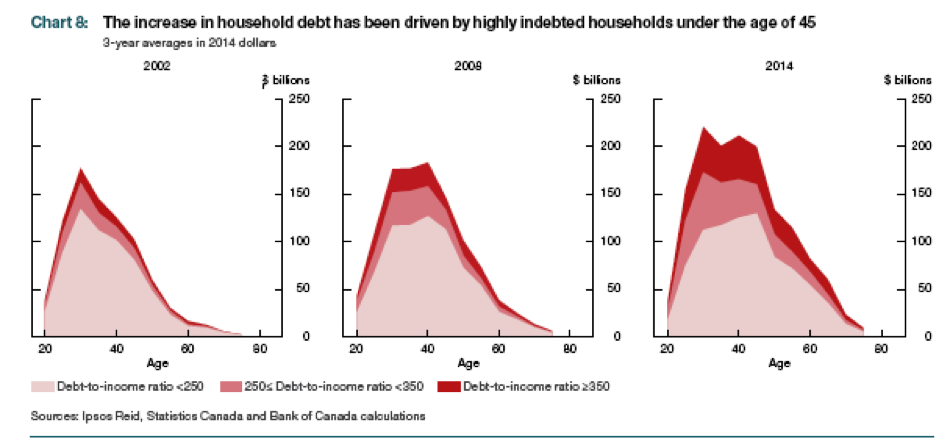 Source: The Bank of Canada
Chart from the December 2015 Financial System Review (FSR) Bank of Canada.
So, if the increase in rates contemplated by the Federal Reserve was followed by the BOC, it would make things even tougher for the one million highly-leveraged Canadian households. Many of those households are in Alberta, a region that is deeply mired in recession due to energy industry losses.
Some people have suggested that Canadian authorities could keep rates low even as the Federal Reserve hiked U.S. rates. In the BOC's September 2016 statement there was even a hint of a rate cut in Canada, as the economic recovery has been weaker than the Bank would like. The next meeting is mid-October for the BOC.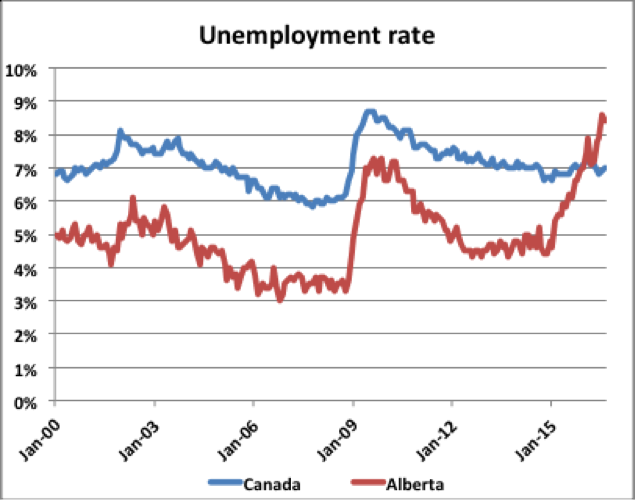 Source: North Cove Advisors, Ben Rabidoux, Statscan
If the Canadian central bankers cut rates while the Fed is hiking their rates, we could see a much lower Loonie and an outflow of funds looking for higher returns on savings south of the border. Eventually the lower Loonie might lead to higher inflation and the BOC might need to hike rates again. A tricky situation. We live in interesting times.
Hilliard, The MacBeth Group team and their clients may trade in securities mentioned in this blog.
The opinions expressed in this report are the opinions of the author and readers should not assume they reflect the opinions or recommendations of Richardson GMP Limited or its affiliates. Assumptions, opinions and estimates constitute the author's judgment as of the date of this material and are subject to change without notice. We do not warrant the completeness or accuracy of this material, and it should not be relied upon as such. Before acting on any recommendation, you should consider whether it is suitable for your particular circumstances and, if necessary, seek professional advice. Past performance is not indicative of future results. The comments contained herein are general in nature and are not intended to be, nor should be construed to be, legal or tax advice to any particular individual. Accordingly, individuals should consult their own legal or tax advisors for advice with respect to the tax consequences to them, having regard to their own particular circumstances.. Richardson GMP Limited is a member of Canadian Investor Protection Fund. Richardson is a trade-mark of James Richardson & Sons, Limited. GMP is a registered trade-mark of GMP Securities L.P. Both used under license by Richardson GMP Limited.