Sweden is dealing with similar challenges to Canada when it comes to debt and house prices. As in Canada, Sweden has had a long period of rising house prices and steady growth in household debt. The Swedish authorities are dealing with these risks by forcing their banks to raise additional capital in the form of common equity.
Is Sweden setting a good example in dealing with stretched house prices, household debt and bank safety issues?
Canada's central bank, the Bank of Canada, recently sounded the alarm over Canadian household debt and the elevated level of house prices. They don't use the word bubble, but they could have.
From the BOC June 2016 Financial System Review:
Key Vulnerabilities in the Canadian Financial System
Vulnerability 1: Elevated Level of Canadian Household Indebtedness
The vulnerability associated with high household indebtedness has moved higher. In Vancouver, Toronto and their adjacent areas, strong mortgage credit growth and rapidly rising house prices are reinforcing each other, sup­ported by low interest rates. Moreover, the share of households with large mortgages relative to income is increasing in these areas. In the regions most affected by low commodity prices, job losses have increased financial stress for some highly indebted households. In the rest of the country, the vulnerability is largely unchanged, with both debt and income growing moderately.
Mortgage debt continues to rise among highly indebted households that have less capacity to cope financially with a loss in income or rising interest rates. This leaves the household sector more vulnerable, with potential consequences for lenders and mortgage insurers.
The Swedish central bank, the Riksbank, used nearly identical language with the only difference being a specific mention of Swedish banks in their January, 2016 Financial Stability Report:
Housing prices and household indebtedness are continuing to rise, making households and banks more vulnerable. Measures are therefore needed to reduce the risks linked to households' increased indebtedness and to strengthen the resilience of Swedish banks. If this does not happen, the imbalances will increase, which can ultimately become very costly for the national economy.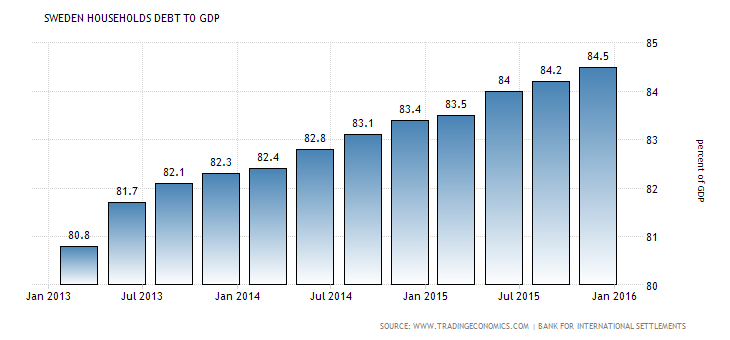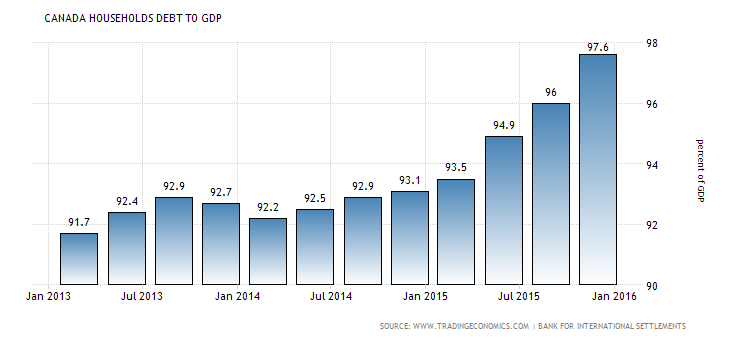 Source: www.tradingeconomics.com, Bank for International Settlements
Canadian households carry somewhat more elevated levels of household debt than those in Sweden and the rate of increase is faster in recent months. The concern is that, in a recession, some Canadian households would fail to pay back their loans, leading to higher loan losses.
So how bad are Swedish banks that the Riksbank is so worried?
Nordea is the largest Swedish bank, and is the largest in Scandinavia. It operates in several countries, including Denmark, Sweden, Norway and Finland. The bank has a stock market value or market capitalization of 300 Billion Swedish Krona or about C$45 billion. Compared to The Royal Bank of Canada, Canada's largest, Nordea is about 40% of RBC's value.
The most important safety buffer against bad loans is capital in the form of common equity.
The most secure type is called CET1, which stands for Common Equity Tier 1. This is permanent capital that can't be withdrawn. This capital can be increased by retaining earnings (not paying out dividends or doing share buybacks) and by selling common shares to investors.
According to Morningstar Research, Nordea has a CET1 ratio of 16.8% of assets and RBC has CET1 of 10.5%.
Canadian banks hold CET1 around 10-11% which is low by international standards, but seems to be acceptable to Canadian regulators.
According to Hamilton Capital, in a report on April 27, 2016, the international average is 13.7% and rising. Canadian banks rank 34th out of 35 "major" countries. US banks weigh in at 11.5%.
While Hamilton Capital says that Canadian banks have adequate capital, the higher levels of CET1 in other countries create a risk that Canadian bank regulators might decide to demand higher levels to avoid falling further behind their global peers.
The risks for Canadian bank shareholders are smaller dividend increases as earnings are retained to boost capital and lower share prices as additional common shares are issued to shore up capital.
Hilliard MacBeth
Hilliard, The MacBeth Group team and their clients may trade in securities mentioned in this blog.
The opinions expressed in this report are the opinions of the author and readers should not assume they reflect the opinions or recommendations of Richardson GMP Limited or its affiliates. Assumptions, opinions and estimates constitute the author's judgment as of the date of this material and are subject to change without notice. We do not warrant the completeness or accuracy of this material, and it should not be relied upon as such. Before acting on any recommendation, you should consider whether it is suitable for your particular circumstances and, if necessary, seek professional advice. Past performance is not indicative of future results. The comments contained herein are general in nature and are not intended to be, nor should be construed to be, legal or tax advice to any particular individual. Accordingly, individuals should consult their own legal or tax advisors for advice with respect to the tax consequences to them, having regard to their own particular circumstances.. Richardson GMP Limited is a member of Canadian Investor Protection Fund. Richardson is a trade-mark of James Richardson & Sons, Limited. GMP is a registered trade-mark of GMP Securities L.P. Both used under license by Richardson GMP Limited.