Reporting for Canadian bank earnings starts this week. Analysts have pens poised, (keyboards ready to click?), and conventional wisdom says that they will report recent trends continue; higher profits but growth slowing.
Or are Canadian banks finally going to face the reality of a slowing Canadian economy and the certainty of sharply higher loan losses triggered by Alberta's current recession?
When it comes to earnings there is one mysterious factor that will make a very big difference.
Bank earnings are a black hole to most people, including many in the financial services industry. One reason for this opacity is the discretion available to management in calculating profits due to estimates of the value of loans that won't be repaid in full.
For this quarter, analysts expect flat earnings growth as small revenue increases will be offset by higher loan losses and loan loss provisions, known as Provision for Credit Losses, or PCLs. They are always referenced in quarterly reports but not always highlighted in media reports. Rules introduced more than a decade ago require that provisions for credit losses are based on actual losses from bad loans. And there are even newer rules coming in 2018 that require the bank to take a provision for losses as soon as a new loan is made.
Before 2018, I anticipate we will discover how treacherous the current rules are if Canada's economy gets into a period of elevated loan losses – also known as a credit cycle or credit crunch. I wrote about this possible scenario in Chapter Two of When the Bubble Bursts, describing what has come to be known as a "Minsky Moment." Minsky predicted that after a long period of stability, the risk of a crisis is very high.
Because Canadian loan losses have been minimal for years, Canadian banks have taken only small PCLs and have built up almost no cushion, or reserve, against loan losses.
While the next Canadian credit crisis isn't here yet, it may be closer than we think. The current recession in Alberta, is affecting borrowers' ability to repay loans. Foreclosures and defaults are already happening and because of rising unemployment and the energy price correction, may continue to climb for several years.
The Big Six Canadian banks have loan loss reserves of less than 1% of total loans outstanding, actually 62 basis points on average. (A basis point is a hundredth of one percent). In the past that ratio averaged 100 basis points with a peak of 170 basis points in Canada. US banks currently average 140 basis points and global banks average 270 basis points. Compared to Canada's past and other banks outside of Canada, the Canadian banks have extremely low reserves against loan losses and Canada is entering a period of severe economic stress and a prolonged cycle of elevated loan losses due to low commodity prices and a weak economyi.
If you want to learn more about banks' reserves and capital levels, you can access fund manager Hamilton Capital, a manager specializing in bank shares. The chart below can be found here and is especially interesting: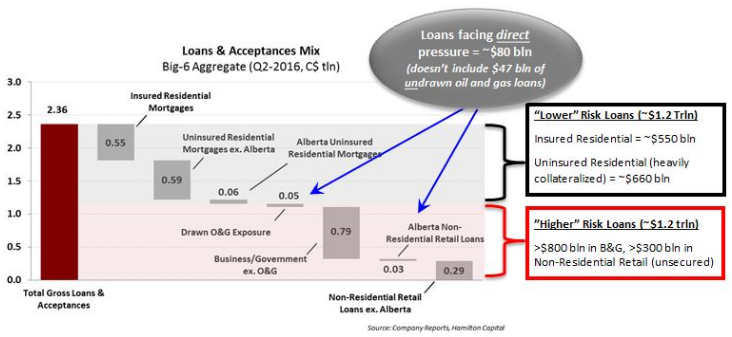 Source: Hamilton Capital
As we saw with a number of European banks in late 2009 during the European sovereign debt crisis, loan losses and loan loss provisions both rise during a period of rising loan defaults; a double whammy to earnings. Banks have to protect their equity by shoring up more capital if the concentration of bad loans goes upii. Compound this with stricter regulations in today's banking environment and you have those capital protection measures taking more out of a bank's potential earnings. Therefore, if such an event occurs in Canada, earnings estimates for future periods will be cut by analysts. The valuation premium that has been in place since 2004 for Canadian banks compared to Global banks will be replaced by a discount. See the Weekend Note from April 22 2016 that covers this.
As I write this note, two banks have reported, BMO and RBC. BMO increased its loan loss provisions by 25% from a quarter ago while RBC decided to cut PCLs 31% from a year ago. In both cases there was no reported indication of widespread problems with loans and the absolute and relative level of provisions remain small.
_______________________________________________
iCompany data, Hamilton Capital and Credit Suisse
iiLoan growth and riskiness of banks (2010), Foos et al.
Hilliard MacBeth
Hilliard, The MacBeth Group team and their clients may trade in securities mentioned in this blog.
The opinions expressed in this report are the opinions of the author and readers should not assume they reflect the opinions or recommendations of Richardson GMP Limited or its affiliates. Assumptions, opinions and estimates constitute the author's judgment as of the date of this material and are subject to change without notice. We do not warrant the completeness or accuracy of this material, and it should not be relied upon as such. Before acting on any recommendation, you should consider whether it is suitable for your particular circumstances and, if necessary, seek professional advice. Past performance is not indicative of future results. The comments contained herein are general in nature and are not intended to be, nor should be construed to be, legal or tax advice to any particular individual. Accordingly, individuals should consult their own legal or tax advisors for advice with respect to the tax consequences to them, having regard to their own particular circumstances.. Richardson GMP Limited is a member of Canadian Investor Protection Fund. Richardson is a trade-mark of James Richardson & Sons, Limited. GMP is a registered trade-mark of GMP Securities L.P. Both used under license by Richardson GMP Limited.