If only I had a dollar for every time someone said, in referring to a risky investment, "Yeah, but it pays a good monthly income so I'm happy to hold it." I've heard this comment about shares of financial companies, real estate investment trusts (REITs), income trusts, and many other investments like direct ownership of rental properties and private mortgages. Investors who are hungry for yield seldom pay enough attention to how much they are paying for the privilege of receiving a steady stream of income and how much risk they are taking.
What if that attractive income comes with hidden risks?
With demographic trends and Canada's relatively paltry Canada Pension Plan and OAS programs, investors will need more income from their investments. This extra cash flow is crucial to fund an annual winter get-away and gifts for grandchildren, not to mention helping the kids with down payments for expensive Canadian housing.
So investors scour the stock listings for companies that pay out high incomes. Canadian banks are popular, yielding from 3.5% for Canadian Western Bank to 4.8% on shares of Canadian Imperial Bank of Commerce. And Real Estate Investment Trusts seem attractive for yield too. RIOCAN REIT yields 5% while H&R REIT pays out 5.8%. Boardwalk REIT, owners of multi-family units in Alberta, yields 6.5% while Dream Office REIT pays out a whopping 9%.
And some more daring investors go to the private mortgage market, where I'm told they receive payments of 10% or higher by loaning money to people who can't get a loan through normal channels.
Some of these yields look almost too good to be true. And some of them are poor investments if we take into consideration the risk being incurred to earn that generous income. But investors chasing yield seldom look at the risk involved.
A look at one example will help to illustrate. Dundee Office REIT or DREAM Office as it's also called (D.UN on Toronto) recently announced their results and shocked the market by taking a 42% write-down on some office building assets in Calgary. These office buildings aren't full and are expected to suffer more vacancies given the Calgary office market has a 20% vacancy rate now while buildings under construction will bring more than 3 million square feet of additional and unneeded space to the downtown Calgary core in the next couple of years.
Dream, a large holder of downtown office properties in Calgary and Toronto, did an evaluation of their properties in Calgary. Looking at estimated future rents and vacancies they came up with a 42% lower value, a decrease of $675 million in estimated value for those assets. The stock dropped from about $19 to less than $17 in one day last week and is down from a high of $21 earlier this year. You can read Dream's latest financial reports here.
Presumably the 9% yield on the shares have prevented an even larger decline in share price. At 9% the payout represents about $1.70 per annum of value. So the drop on the stock market is only worth one year's income and current holders might not be too upset.
Here's what the value of their assets looks like from the June 30 report before and after the write-down: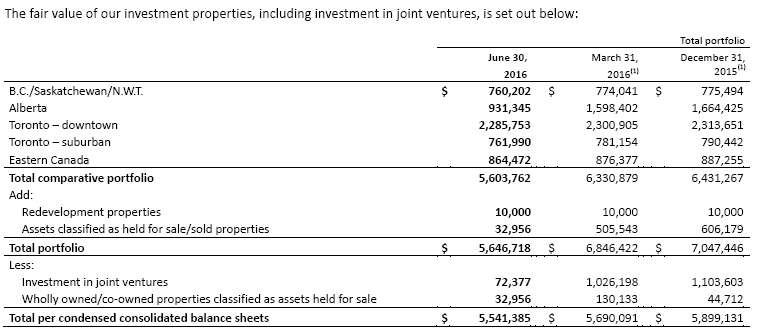 Source: Dream Office REIT
Note that Alberta values declined 42% from $1.6 billion to $931 million. For investors this drop in valuation is equivalent to 4.5 years of income lost.
So just looking at yield alone can be hazardous to an investor's financial health. When lots of investors are chasing the same strategy prices become inflated and risks are overlooked. Check out the quality of the value of the assets being purchased, and especially take care to avoid overpaying just for the privilege of receiving a juicy dividend cheque.
Hilliard MacBeth
Hilliard, The MacBeth Group team and their clients may trade in securities mentioned in this blog.
The opinions expressed in this report are the opinions of the author and readers should not assume they reflect the opinions or recommendations of Richardson GMP Limited or its affiliates. Assumptions, opinions and estimates constitute the author's judgment as of the date of this material and are subject to change without notice. We do not warrant the completeness or accuracy of this material, and it should not be relied upon as such. Before acting on any recommendation, you should consider whether it is suitable for your particular circumstances and, if necessary, seek professional advice. Past performance is not indicative of future results. The comments contained herein are general in nature and are not intended to be, nor should be construed to be, legal or tax advice to any particular individual. Accordingly, individuals should consult their own legal or tax advisors for advice with respect to the tax consequences to them, having regard to their own particular circumstances.. Richardson GMP Limited is a member of Canadian Investor Protection Fund. Richardson is a trade-mark of James Richardson & Sons, Limited. GMP is a registered trade-mark of GMP Securities L.P. Both used under license by Richardson GMP Limited.