With the collapse of commodity prices, emerging markets (EMs) are taking a beating. EM currencies are near all-time lows in US dollar terms. Most Canadian investors are familiar with the effect of weakness in the commodity space and understand the impact this has on economies specializing in the extraction of natural resources.
However, in spite of these well-known challenges, some long-term investors consider a few EMs to be ripe for investment.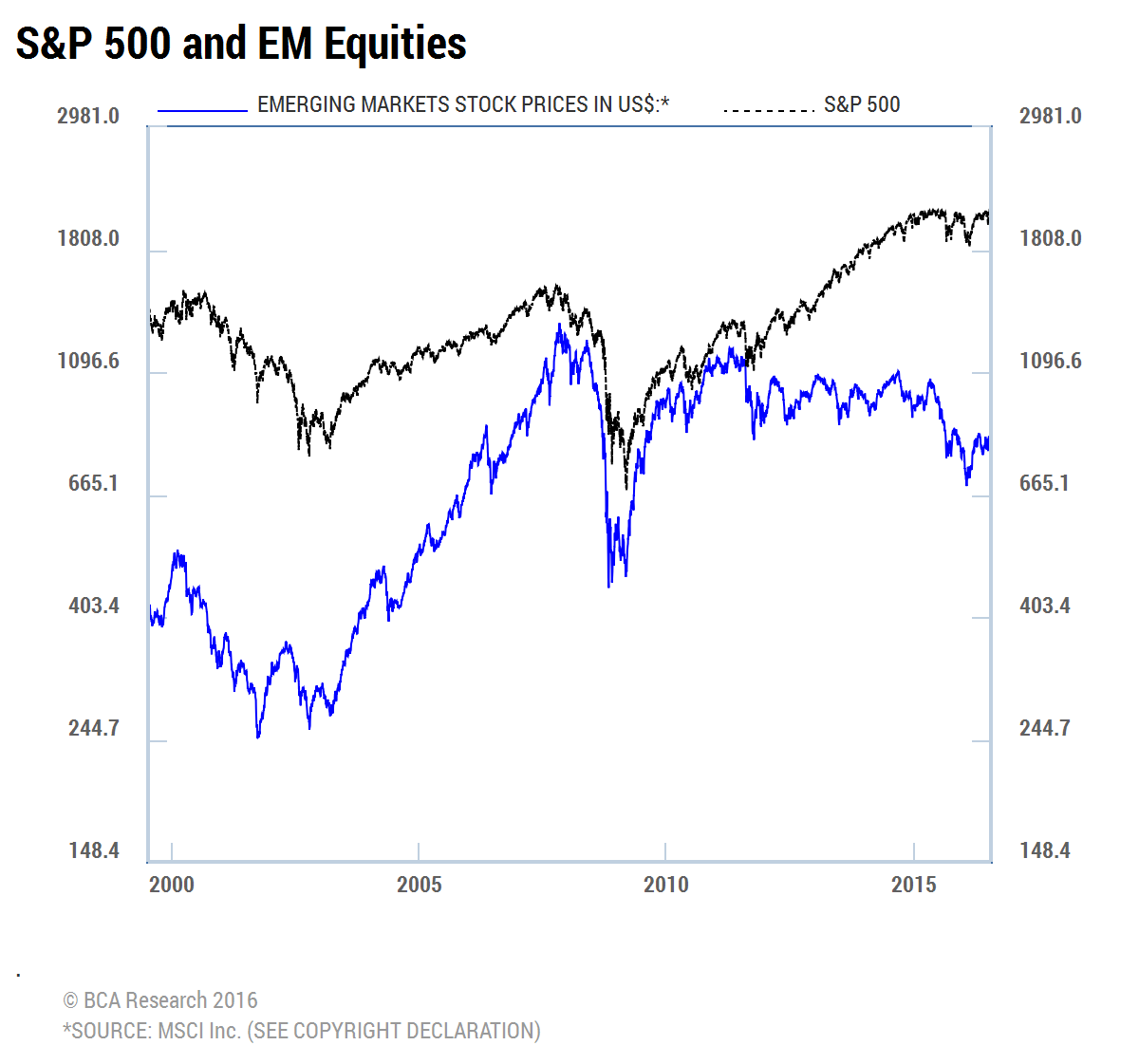 Source: BCA Research Inc.
Whether a country is a component of BRIC1, BRICET2, BRICS3, MINT4 or the Next Eleven5, applying the term EM to a country or an economy is imprecise, at best. A good definition is found at Investopedia and the Financial Times discusses the nuances of the meaning of the term. Regardless of how they are classified, there are countries where middle-income populations could develop into consumer engines that can differentiate that country from the more traditional characteristics of an EM.
In a recent article John Kemp found that 10 of the top 20 oil-consuming countries in the world are not members of the Organization for Economic Cooperation and Development (OECD).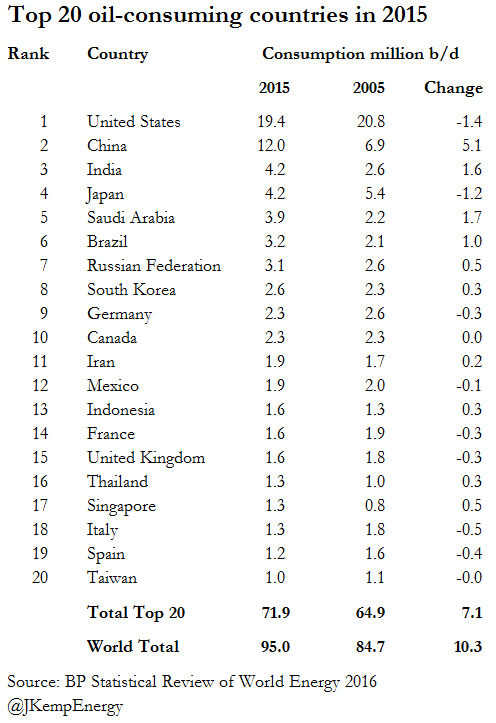 Source: Reuters
In the table above, China and India are numbers 2 and 3 after the U.S. A decline in oil prices benefits those countries more than developed markets and other EMs that produce more oil. Here's why India's consumption has increased so much: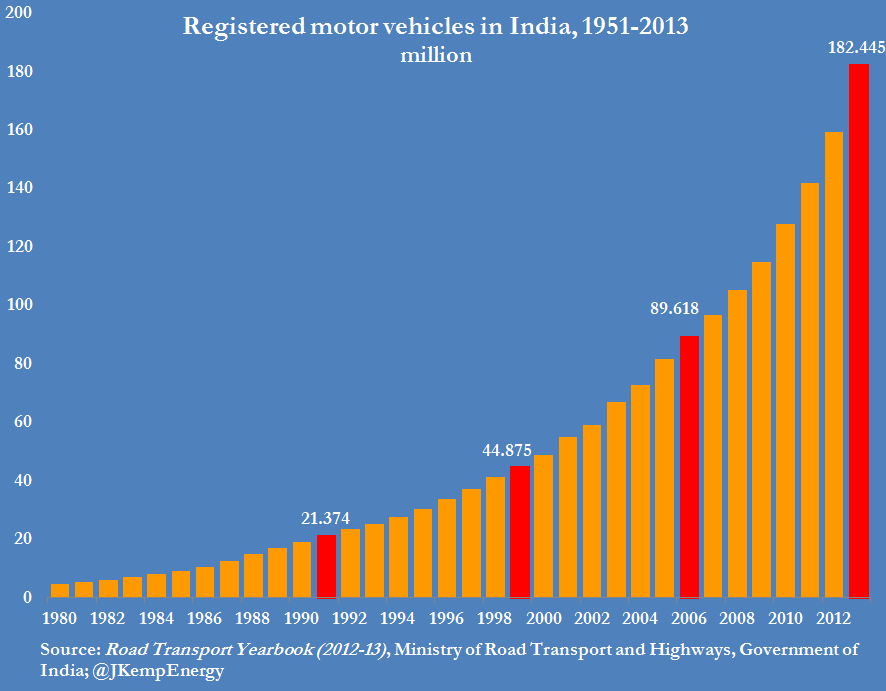 Source: Reuters
With a growing middle class that is increasingly mobile, India's economy will require vastly improved infrastructure. There will be many opportunities for companies to build and maintain highways, ports, trains, power plants, airports etc. As Gary Shilling mentions in Bloomberg India's population will eventually be larger than China's and will have a more favorable ratio of working adults to retirees.
Source: BCA Research Inc. and MSCI Inc.
After years of volatility and a declining trend, the MSCI (Morgan Stanley Capital International) Emerging Markets Index turned positive at the beginning of this year. The index is trading well below levels of a decade ago.
The index is dominated by stocks in China, South Korea and Taiwan. Brazil and South Africa are also large components but these two countries could be in for a rough period as Brazil recently impeached their President and South Africa's governing ANC party doesn't inspire confidence with investment managers due to accusations of corruption.
Nigeria, the largest economy in Africa, is looking for $40B to $50B of additional investment, mainly for oil projects. The oil-producing country is expecting its output to increase to 2.2 million barrels a day.
Some EMs are showing progress in the technology space – especially with regards to the internet of things (IoT). According to a Hyundai Research Institute report, the global IoT market is expected to grow to over $1T by 2020 from its current size of $300B. The Hyundai report concludes that this will directly benefit South Korea. Taiwan could also be a major player in that boom.
EMs could be on the verge of an impressive recovery, after years of poor performance. Compared to an expensive U.S. stock market, returns in other parts of the world are likely to outperform, even after adjusting for much higher risk.
But all EMs are not alike and some economies classified as EMs have substantial problems and should be avoided by most investors.
Before deciding where to invest in the EM space investors should seek expert guidance.
Please speak to Hilliard or Jon if you want to learn more about investing in EMs.
Fraser Betkowski
1Brazil, Russia, India, China
2BRIC + Eastern Europe and Turkey
3BRIC + South Africa
4Mexico, Indonesia, Nigeria and Turkey
5Bangladesh, Egypt, Indonesia, Iran, Mexico, Nigeria, Pakistan, Philippines, South Korea, Turkey and Vietnam
Hilliard, The MacBeth Group team and their clients may trade in securities mentioned in this blog.
The opinions expressed in this report are the opinions of the author and readers should not assume they reflect the opinions or recommendations of Richardson GMP Limited or its affiliates. Assumptions, opinions and estimates constitute the author's judgment as of the date of this material and are subject to change without notice. We do not warrant the completeness or accuracy of this material, and it should not be relied upon as such. Before acting on any recommendation, you should consider whether it is suitable for your particular circumstances and, if necessary, seek professional advice. Past performance is not indicative of future results. The comments contained herein are general in nature and are not intended to be, nor should be construed to be, legal or tax advice to any particular individual. Accordingly, individuals should consult their own legal or tax advisors for advice with respect to the tax consequences to them, having regard to their own particular circumstances.. Richardson GMP Limited is a member of Canadian Investor Protection Fund. Richardson is a trade-mark of James Richardson & Sons, Limited. GMP is a registered trade-mark of GMP Securities L.P. Both used under license by Richardson GMP Limited.