Bank of Canada Governor Poloz shocked Canadians yesterday when he talked about housing: "If prices are going up because people expect prices to go up, then that, of course, is probably unsustainable…"
Governor Poloz gave the media a great quote, but who is going to fix the housing crisis?
This latest BOC report chronicles the same risks that, for more than five years at least, the Bank has highlighted — the elevated level of household indebtedness related to the purchase of housing is a serious risk to the Canadian financial system.
From "When the Bubble Bursts: Surviving the Canadian Real Estate Crash", Chapter Six:
"Household debt … has been rising relative to income for many decades, but the rate of increase has accelerated since the late 1990s, so that by the third quarter of 2011 it stood at more than 150 percent of personal disposable income. "
Bank of Canada Review Winter 2011-2012 Special Report on Household Finances and Stability
Source: 2015 Hilliard MacBeth, Dundurn
Here is the link to that issue.
So readers will understand when I don't get too excited about this latest warning. It appears that the Bank of Canada sounds warnings but has little power to stop the runaway freight train that the housing markets have become, especially in Toronto and Vancouver. The BOC seems to be relegated to the role of observer, rather than actor. Other than jacking up interest rates sharply, what action could the BOC take to halt the growth of debt?
In the December 19, 2014 Weekend note I included a graph from the BOC's report that shows the housing market was between 10% and 30% overvalued.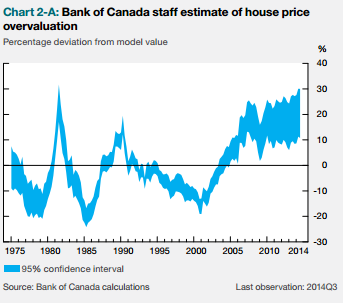 Source: Bank of Canada
That report caused quite a stir because of the BOC's claim that housing was overvalued.
This current period of overvaluation has persisted for much longer than previous similar periods in 1980 and 1990, when similar conditions existed for about a year. Both of the previous "bubbles" were followed by serious crashes in housing that caused many Canadian lenders to fail.
House prices and household indebtedness have continued their climb, making the bubble more dangerous and the inevitable crash more damaging. Note how much debt has increased - about 33 percent since the end of 2011 when the BOC issued that report.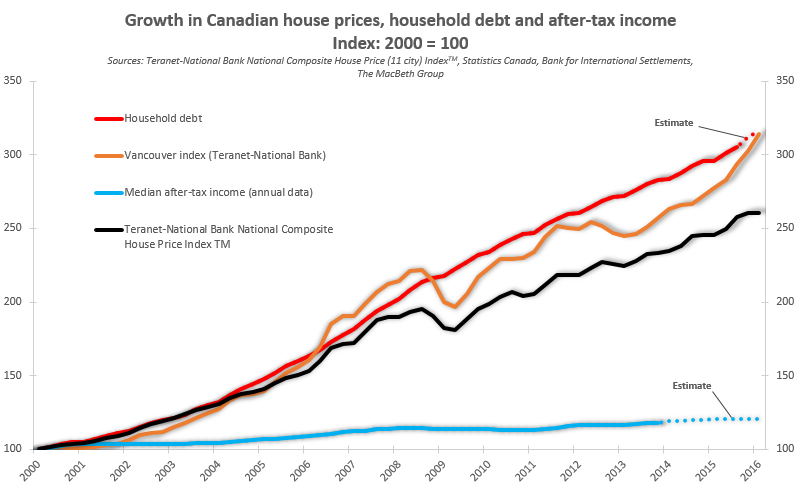 Source: Teranet-National Bank National Composite House Price (11 city) IndexTM, Statistics Canada, Bank for International Settlements, The MacBeth Group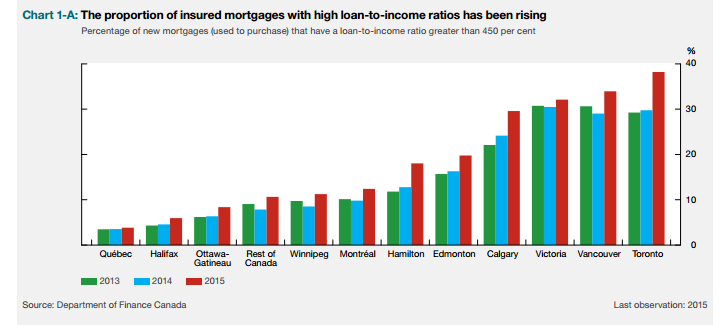 Source: Department of Finance Canada
In the Financial System Review issued yesterday this graph shows their latest concern. The level of indebtedness is not distributed evenly across households. The most rapid increases in extreme indebtedness (loan-to-income greater than 450%) appeared in Hamilton, Edmonton, Calgary, Vancouver and Toronto.
This happens because it takes more and more debt to purchase expensive housing, as wages, salaries and savings are not keeping pace.
We know that people expect prices to keep rising. I've talked to many parents who are helping their young adult children to buy housing even when their offspring can't really afford to buy. They say to me – "If they don't get into the housing market now, they'll never be able to afford a house." This is the epitome of expecting prices to rise forever and it's a very widespread belief. Even a slight correction in house prices as we've experienced in Edmonton and Calgary has done little to dispel this myth, at least so far.
Since house prices can't rise forever the unavoidable correction will be very painful for young families and even older Canadians who are going into debt to help their children to buy houses. And it seems that agencies like the Bank of Canada are powerless to stop it.
Hilliard MacBeth
Hilliard, The MacBeth Group team and their clients may trade in securities mentioned in this blog.
The opinions expressed in this report are the opinions of the author and readers should not assume they reflect the opinions or recommendations of Richardson GMP Limited or its affiliates. Assumptions, opinions and estimates constitute the author's judgment as of the date of this material and are subject to change without notice. We do not warrant the completeness or accuracy of this material, and it should not be relied upon as such. Before acting on any recommendation, you should consider whether it is suitable for your particular circumstances and, if necessary, seek professional advice. Past performance is not indicative of future results. The comments contained herein are general in nature and are not intended to be, nor should be construed to be, legal or tax advice to any particular individual. Accordingly, individuals should consult their own legal or tax advisors for advice with respect to the tax consequences to them, having regard to their own particular circumstances.. Richardson GMP Limited is a member of Canadian Investor Protection Fund. Richardson is a trade-mark of James Richardson & Sons, Limited. GMP is a registered trade-mark of GMP Securities L.P. Both used under license by Richardson GMP Limited.