Another OPEC meeting this week in Vienna confirmed what many suspected. OPEC no longer controls the price of oil. The "free market" has ruled oil prices since the pivotal November 2014 OPEC meeting when members failed to reach agreement on an output cut.
What will that mean for the price of crude oil and the people who produce it?
OPEC was founded in 1960 in Baghdad, in reaction to weak oil prices. Attending that first meeting were representatives from Venezuela, Kuwait, Saudi Arabia, Iran and Iraq. OPEC now has 12 members but four members (Saudi, Kuwait, Iran and Iraq) produce about two-thirds of OPEC's 31 million barrels. OPEC produces about 1/3 of the world's oil today.
Since 1960 many non-OPEC countries have grown into major producers, the two most important being U.S. and Russia which rival Saudi's production. Others are China, Brazil, Canada and Norway. The Saudis argue correctly that if they cut production unilaterally non-OPEC producers would increase output and nothing would be achieved.
Since oil prices collapsed starting in June 2014 (oil at $115) and continuing after that historic OPEC meeting November 27, 2014 ($73), the number of active rigs in North America has steadily declined, reaching record low levels in January 2016 ($26).
A client that worked for the Alberta division of a major international drilling company told me a few months ago that only one rig was working — and that rig was drilling for potash in Saskatchewan!
Because of this collapse in drilling activity optimism has reappeared about the price of oil. WTI oil has doubled from its January low and there's talk of $85 or even higher within a couple of years.
This week's OPEC meeting ended politely but without agreement on production cuts.
Iran's spokesperson Bijan Namar Zangeneh said: "Without country quotas, OPEC cannot control anything." In interviews he sounds conciliatory but determined to increase Iranian production to at least 4 million barrels.
The Saudis seem content to continuing producing near record high levels. Their strategy is to keep the market well-supplied, keeping prices low, until more high-cost producers disappear.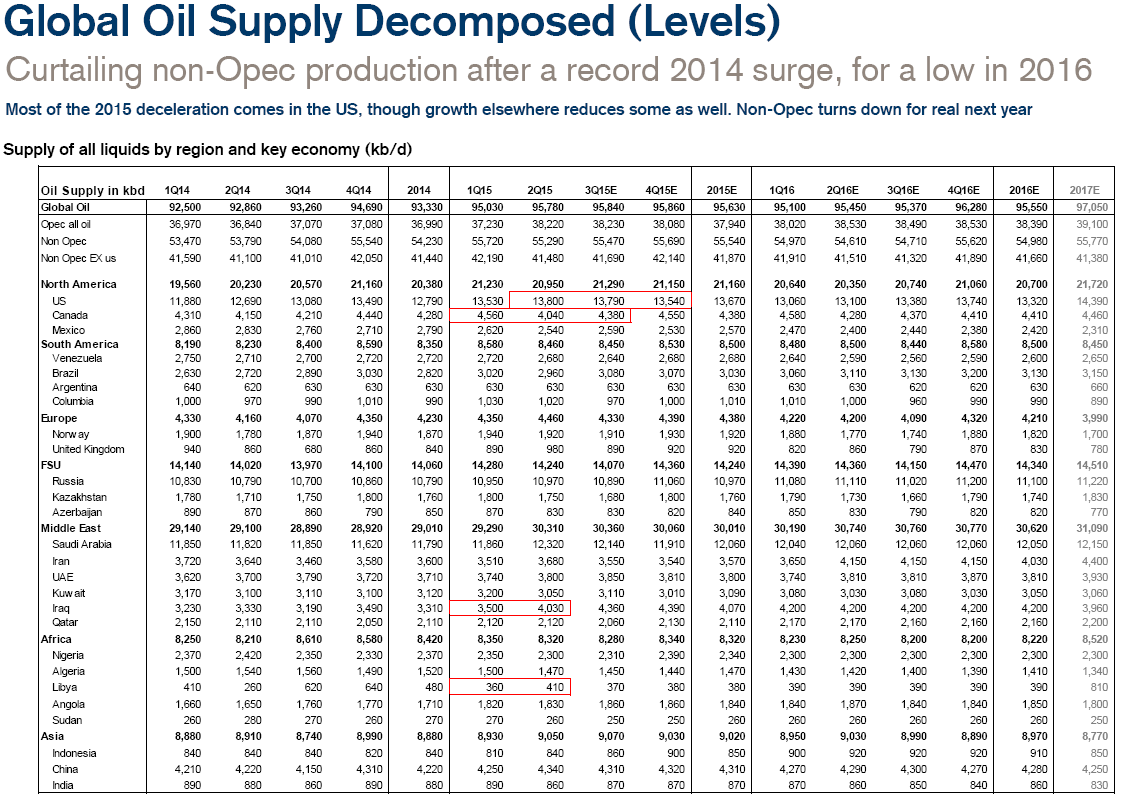 Source: Goldman Sachs
Production has continued to increase from two other founding members of OPEC, Iraq and Iran. Both had been operating below capacity due to war and sanctions but now Iraq is above 4 million barrels and Iran is at 3.9 million and heading higher. Iran vehemently defends its right to grow production to 4.7 million barrels.
With OPEC's discipline gone what is the basis for the optimism about rising prices? It comes from the idea that low prices will force marginal producers into bankruptcy and restrict their ability to drill new wells. So who are these marginal producers that will fade away?
US shale producers are one target. US production doubled in ten years from 5 million to 10 million barrels, mostly from shale. Shale producers borrowed billions in junk bonds and many are now defaulting. But shale producers are surprisingly resilient. The Permian Basin (Texas and New Mexico) is the most productive and cost-effective shale region:

Source: Credit Suisse
Note the increase in production right up to June 2016 in spite of fewer drilling rigs. Output growth even in a low-price era shows an ability to get costs down.
Goldman Sachs suggests that prices are headed lower.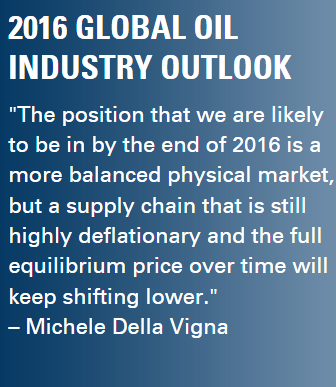 Source: Goldman Sachs
What about other producers besides shale that have higher costs?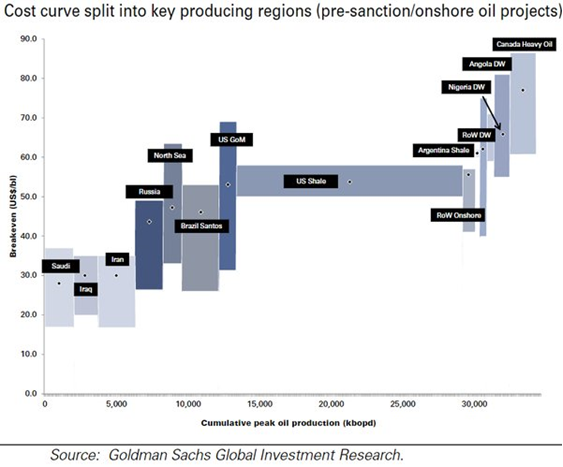 Source: Goldman Sachs
Iran, Iraq and Russia will survive in a low-price world due to low costs. The Saudis have lots of flexibility.
But some producers are not insulated from the vagaries of the free market. The Saudi's new approach to let the free market decide could hit high-cost producers in Canada, Angola and Nigeria. Deep water drillers (RoW DW on the chart) are in trouble too.
The "free market" can teach some very harsh lessons.
Hilliard MacBeth
Hilliard, The MacBeth Group team and their clients may trade in securities mentioned in this blog.
The opinions expressed in this report are the opinions of the author and readers should not assume they reflect the opinions or recommendations of Richardson GMP Limited or its affiliates. Assumptions, opinions and estimates constitute the author's judgment as of the date of this material and are subject to change without notice. We do not warrant the completeness or accuracy of this material, and it should not be relied upon as such. Before acting on any recommendation, you should consider whether it is suitable for your particular circumstances and, if necessary, seek professional advice. Past performance is not indicative of future results. The comments contained herein are general in nature and are not intended to be, nor should be construed to be, legal or tax advice to any particular individual. Accordingly, individuals should consult their own legal or tax advisors for advice with respect to the tax consequences to them, having regard to their own particular circumstances.. Richardson GMP Limited is a member of Canadian Investor Protection Fund. Richardson is a trade-mark of James Richardson & Sons, Limited. GMP is a registered trade-mark of GMP Securities L.P. Both used under license by Richardson GMP Limited.