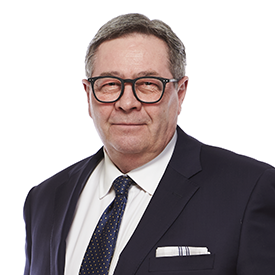 Ted has built a reputation over the past forty years for his long-term approach to retirement planning and wealth management. His thoughtful guidance as a wealth advisor has earned him a select client-base of high net worth professionals and families that have grown alongside him and his practice.
Ted was drawn in by the financial industry's magnetism after a visit to Merril Lynch in 1972 as part of a college project. In awe with the dynamic environment, Ted knew it was the world he wanted to be a part of. In 1977, he joined investment dealer Greenshields (which would later be absorbed by Richardson to become Richardson Greenshields). It was a formative experience that sparked his interest in the newly launched RRSP concept, leading Ted to a lifelong career in long-term wealth planning.
After a few years, Ted moved to Midland Walwyn and ended up at CIBC through a series of industry consolidations. In 2020, driven by more changes in the industry, Ted brought his practice to Richardson Wealth in search of entrepreneurial autonomy with access to wide-reaching resources and support.
When he's not helping clients set their long-term plans in motion, Ted spends time with his wife Amy, working on their enviable yard. He also loves to spend time with his three children and two grandchildren. Golf plays a big role in his life and he's been a proud member of the Niakwa Country Club for 35 years. Ted prioritizes giving back and donates a portion of his commission every year to charitable causes including the Firefighter's Burn Fund and the local children's hospital.