Investment Advisor, Portfolio Manager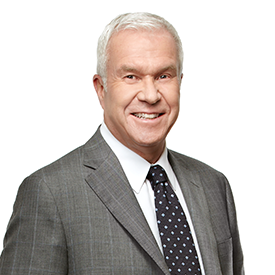 Robert graduated from the University of British Columbia (UBC) with a Bachelor of Science and started his career with McLeod Young Weir in 1978, which was acquired by the Bank of Nova Scotia in 1988. He remained with Scotia McLeod as a Director until 2005 when he joined GMP Private Client L.P., now Richardson Wealth Limited as Director, Wealth Management Portfolio Manager, Investment Advisor. He obtained his Canadian Investment Manager (CIM) certificate and is a Fellow of the Canadian Securities Institute (FCSI) - the highest designation in the Canadian investment industry. He is also an Accredited Investment Fiduciary Professional AIFP ®.
As an AIFP designee Robert works with Investment Fiduciaries to implement proper policies and procedures to help fiduciaries manage their duties and obligations. Robert employs uniform, industry-recognized processes for developing personalized investment strategies based solely on an investor's specific investment needs, to apply objective, comprehensive standards for evaluating and recommending investment options, perform ongoing due diligence, monitor and report portfolio performance and to conduct ongoing reviews of our business practices to ensure fiduciary principles are being properly applied.
Richardson Wealth (USA) Limited is an RIA (Registered Investment Adviser) and Robert serves US citizens and residents as an Investment Advisor Representative (IAR).
Our team provides discretionary investment management including portfolio construction, due diligence and wealth and estate tax planning to high net worth families and business owners in Canada. Clients include professionals, senior executives, former executives, founders of public and private companies and family offices with intergenerational wealth.
Robert is also active in Canadian capital markets through financing of public and private companies, private equity, funds and alternative investments.