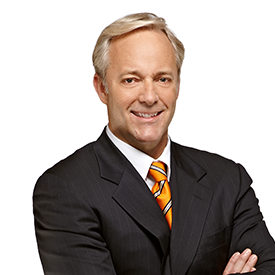 For nearly 30 years, Randall Gray has provided wealth management services to prominent Canadian families, retirees, small corporations and institutions. Following careful consideration of their long-term objectives and true risk tolerance, Randy provides customized investment advice and tailored portfolios as well as enduring financial plans, drawing from his experience navigating a myriad of market cycles and economic crises. Randy's methodology encompasses estate planning, tax minimization and insurance strategies. He acts as a financial CEO, ensuring that all aspects of your wealth work in unison. Investors particularly value Randy's ability to create sincere rapport, earn lasting trust and build relationships that make them feel a part of the wealth process.
Randy has investing in his blood: his father worked for Richardson Securities in the 70's as head of research and Randy himself is a founding partner of GMP Securities (now RF Securities Clearing), predecessor to Richardson Wealth (formerly Richardson GMP). Prior to being a founding Partner at GMP Securities, Randy was Associate Director Private Client Financial Services at ScotiaMcLeod for 15 years and Vice President Asset Management at boutique investment firm First Associates. Randy keeps his team and client base small to offer a competitive advantage for his clients: he is directly involved in serving every investor with a degree of personal dedication that leaves no doubt about his commitment to their financial well-being.
As a young man, Randy attended Charterhouse School in the UK. Founded in 1611, Charterhouse ranks as one of England's top independent boarding schools and one of its great historic institutions. This experience, as well as living abroad, gave Randy the gift of relating to people from all walks of life all across the globe. Randy graduated from the University of Calgary with a BA in Business and English in 1982 and is an avid cyclist, windsurfer and hockey player who enjoys travelling with his wife and three children both at home and abroad. Fluent in German and competent in French, Randy is keen to expand his repertoire of languages and explore new cultures, documenting his journeys through the lens of his camera.