Mohamed El Tagi

B.A., CIM®
Portfolio Manager, Investment Advisor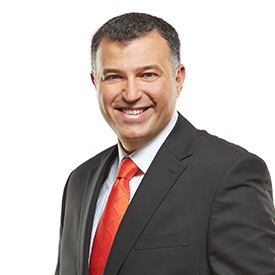 Mohamed is a multi-award-winning professional with more than 15 years of experience in financial services. He has built long-term relationships with high net worth individuals, retirees, pre-retirees, business owners and professionals by devoting the time to understand their families' unique situations in depth, preparing tailor-made options and helping people choose the wisest strategies at every stage of life.
Born and raised in Cairo, Mohamed studied Economics at the American University in Cairo and came to Canada in 1989, earning a Bachelor's Degree in Economics from Concordia University in 1992. Mohamed joined a Montréal pulp and paper export company in their Letters of Credit department; by 1998, he was promoted to Director and Vice President Finance, overseeing and directing finance and sales operations.
To pursue his interest in personal finance, Mohamed joined Investors Group in 2002 as a Financial Consultant. In his first year he was named Investors Group Runner-up Rookie; he won the firm's Pillar Awards for three consecutive years, made the President's Elite in 2012, and was invited to join the President's Club in 2013. Mohamed also received the Platinum Personal Financial Planning Award in 2014, demonstrating his commitment to serving clients. In 2011 Mohamed was promoted to Division Director to recruit, train and oversee new consultants. Despite these honours, Mohamed considered the true hallmarks of his success to be his clients' expressions of trust and appreciation. Clients have appreciated his open, honest and sincere approach to serving their families' financial health and well-being. They valued his hard work, tenacious drive to achieve results, deep knowledge, integrity, service commitment, and professionalism.
Early in 2016 Mohamed joined the Montréal office of Richardson Wealth to provide clients with a holistic approach to financial planning, tax and estate planning, insurance, retirement strategies and investment management. Mohamed continually upgrades his skill set by taking industry courses.
Mohamed's loving wife and three children provide him with great support and the strength to tackle life's challenges. Formerly an avid squash player, today Mohamed decompresses by swimming, cruising the world, and voraciously reading books on business and economics.