Portfolio Manager, Investment Advisor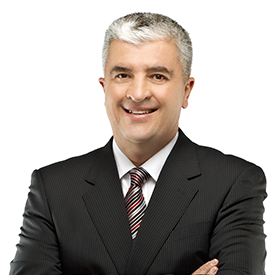 Bachelor's degree
After obtaining his B.A. in Economics and Finance at McGill University in 1992, Francis earned the designation of financial planner from the Institut québécois de planification financière in 1999.
Wealth and Portfolio Manager
Today, Francis is the Portfolio Manager at Richardson Wealth in Montreal. The Francis Sabourin Group's clientele is constantly growing.
A visionary, Francis developed the Vision ● Planning ● Guidance (VPG) approach to help clients achieve the personal and financial goals most dear to them.
More than 25 years of experience in the securities industry
Prior to joining Richardson Wealth in November 2006, Francis worked as a financial advisor at various brokerage firms, including Groupe Option Retraite and Merrill Lynch Canada, now CIBC Wood Gundy.
A go-to source valued by the media
Francis has published and collaborated on several articles and videos in Finance et Investissement's magazine and Web content. He participated in the LaPresse.ca weekly column "Sur le radar."
Francis is regularly quoted in the popular blog Conseiller.ca, the Wealth Professional journal and Canal Argent, among others, for his opinion on various current financial issues.
As a speaker, Francis has participated in thematic round tables including one entitled: "Stratégies de transmission du patrimoine: une approche avant-gardiste pour faire passer son client à l'action." The presentation delivered in Montreal and Quebec City was intended for an audience of financial planning stakeholders, such as lawyers, notaries, tax accountants, financial advisers and financial security experts.
Active philanthropic involvement
Francis is well known for his commitment and his multiple achievements within various community organizations.
At the Fondation Collège Bourget in 2007, in addition to being its administrator, among other roles, he served as honorary chair of the Bal de l'avenir, raising over $90,000 for the Fondation.
Francis is a former member of the board of directors of the Fondation des Jeux du Québec, Sports-Québec, and a current member of the Canadian Olympic Committee. He was a major contributor to the growth of the philanthropic program Placements Sports and its predecessor, Portefeuille Sportif Québécois.
Francis was one of the governors of the 51st finale of the Jeux du Québec held in Montreal in summer 2016.