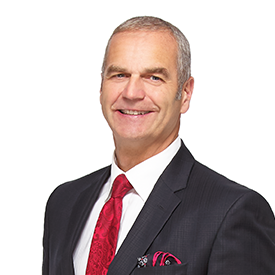 For over 30 years, Eric has been providing financial services and advice to clients in the Halifax area and beyond. His role as a full service, independent Financial Advisor with Richardson Wealth combined with his 16 years of experience in banking, make him exceptionally well positioned to advise clients on all areas of financial well-being.
In collaboration with his associate Shannon Jones, Eric strives for a deep understanding of each client's unique set of circumstances and ambitions in order to best support them in realizing their goals. His approach is one of thoroughness, care, and personal pride – he never recommends a financial solution that he wouldn't use himself and is always quick to respond to client questions or concerns. He is proud to have cultivated relationships with clients that span many years and now extend to helping their children build their own bright financial futures.
Eric lives in Halifax with his wife Cathy and their two children, Amy and Andy. While passionate about his work, he loves to spend quality time with family and friends and believes in the importance of making the most of every day. In his free time, he is often to be seen out in his boat on the beautiful waters around Nova Scotia.