Lyndsay Huthmann
CFP®, CFDS
Financial Planner
Located in the Calgary office, Lyndsay works closely with Investment Advisors to deliver comprehensive financial plans and wealth solutions to their clients. Connecting with people is easy for Lyndsay and helps her provide a balanced perspective when addressing clients' financial planning needs. She makes the journey just as important as the destination.
Lyndsay has been in the financial industry since 2006. Most recently working with investment advisors at a large bank, she brings over 12 years of experience in retirement, tax and estate planning for high net worth families.
Lyndsay completed her Bachelor of Applied Financial Services with Mount Royal University and her Certified Financial Planner® designation with the Financial Planning Standards Council (FPSC). Lyndsay has also completed the Canadian Securities Course (CSC), Conduct and Practices Handbook (CPH) and Life License Qualification Program (LLQP). In 2021, Lyndsay successfully completed her certification as a Chartered Financial Divorce Specialist (CFDS)
Sean Hsu
CPA (New Hampshire), MTax, TEP
Senior Tax Specialist, Tax & Estate Planning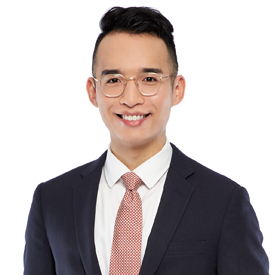 Sean collaborates with advisory teams and their clients to develop wealth planning strategies and to deliver integrated solutions addressing their unique needs.
Sean is an accountant with experience in Canadian and U.S. tax planning for high-net-worth individuals, with a focus on integrated cross-border wealth, estate, and trust matters. Before joining Richardson Wealth, Sean was at a multi-national accounting firm practicing in the private client group.
Sean participates in the development of thought leadership content delivered by our Tax & Estate Planning team. He has appeared in The Globe and Mail and has authored and contributed to several articles for BorderCrossings, a Thomson Reuters publication with insightful commentary on crossborder issues faced by Canadians and U.S. citizens. He is also a facilitator in the Chartered Professional Accountants of Canada's In-Depth Tax Program.
Sean is a U.S. Certified Public Accountant, a member of the Society of Trust and Estate Practitioners, and holds a Master of Taxation from the University of Waterloo.
Christopher J. Curtis
CPA, CA, JD, TEP
Vice President, Tax & Estate Planning
Based in Winnipeg, Chris expertly applies his accounting and legal experience to collaborate with advisors and their clients to identify wealth, and tax and estate planning opportunities. He takes a pragmatic and candid approach to helping clients meet their overall financial goals and objectives.
Chris began his professional career as an accountant in private practice at Ernst & Young LLP. After being called to the Manitoba Bar, he joined Canada Life as in-house counsel and subsequently transitioned to the role of Wealth & Tax Planning Consultant, where he spent several years working extensively with advisors providing advice to their high-net-worth clients. Chris also has experience practicing law as an estate planning and administration lawyer with one of Western Canada's pre-eminent law firms.
Chris obtained an HBA from the Ivey Business School and a J.D. from Robson Hall Faculty of Law. He holds a CPA, CA and is a member of the Society of Trust and Estate Practitioners (STEP).