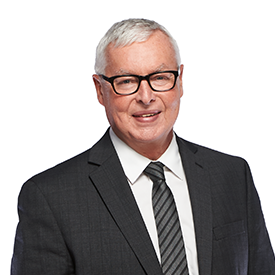 Jari has been helping business owners and multiple generations of families to make wise financial decisions for 30 years and his trademark has always been superior service. As a leading Winnipeg Investment Advisor, Jari provides financial planning advice as well as comprehensive investment strategies, drawing on a full range of investment vehicles. He is supported by his Associate Investment Advisor Justine Pohl, who joined Jari's team in September 2014 (and also happens to be his daughter).

Prior to joining Richardson Wealth (formerly Richardson GMP) in the spring of 2016 to form the Stromberg Wealth Management Group, Jari worked with TD Wealth and CIBC Wood Gundy. Early in his career, he worked in banking as a branch manager, loans manager and credit manager. Jari has furthered his interest in leadership by completing the Partners, Directors and Senior Officers Course. He is also licensed to offer families life and accident and sickness insurance.

After getting to know your personal and business circumstances, as well as intangibles such as your hopes and dreams, Jari will help you attain your business and personal goals. He will advise you regarding conservative, disciplined, long-term investment strategies; diversification across asset classes and global regions; banking, credit and major purchase planning; risk management and the protection of your assets and income; tax minimization; education funding, retirement planning; business succession; estate planning; philanthropy; and much more. Taking a more personalized approach, Jari delves deeply into what you want your money to accomplish.

Jari attended Brown University in Providence, Rhode Island, graduating with a BA in Economics and International Relations. During this time he played hockey for the Brown Bears. Jari, his wife Kristiina, and their three daughters have made Winnipeg their home since 1989. In his personal time, Jari enjoys cross-country skiing, soaking up cottage life on Lake Manitoba with his family, and reading.