Uh oh! We are dealing with high inflation, recession worries, interest rates on the rise, and the stock market is tanking. In addition, don't forget about the ongoing war that has taken a backseat to all the other headlines.
Now what? Where do we go from here? How am I NOT supposed to worry?
I intend to help calm your fears and concerns in the first edition of this newsletter.
Given the current state of the world, the global economy, and the financial markets, you may be worried about your own investments and if you need to be taking any action to preserve your wealth. Overall sentiment has turned extremely negative in the market, which has been reflected in stock prices. It is hard to stay calm when people are panicking all around you due to the uncertainty.
But if you remember how the market has always recovered, you'll be able to see that even though it may be difficult now, things should get better in due time.
Here are 5 important concepts/ideas which will help you navigate the volatility and challenges ahead, and hopefully provide you with some peace of mind!
#1: Stay put and stay calm!
Investing through the current market volatility can be challenging. Should you go to cash? What investments perform the best during a market selloff and inflationary environment? Is it a good time to consider tax-loss harvesting or buying the dip?
If you're unsure whether you should take any action, then you probably shouldn't! Staying the course through market volatility usually rewards the patient investor, especially if you are investing for the long term. Panicking and selling to cash could have serious negative consequences on your portfolio, which could take years to recover from!
MOST IMPORTANTLY: Don't fall into the trap of buying high and selling low - It's tempting to rush into an investment when it's on an upswing, but that can be dangerous as well. If you buy high and sell low, not only will your returns be lower than they could have been, but you'll also miss out on opportunities that may come up later in the cycle.
Here are 2 articles that can help put things in perspective, so you are not acting irrationally or based on emotions. These articles discuss key things to remember during times like this and painful mistakes to avoid. Ultimately, long-term investors need to ride out the inevitable bear markets as tough as they may be to avoid missing out on the market rebound, whenever that does happen.
Remember: Don't try to time markets—you can't and shouldn't try!
#2: Don't risk missing the market's best days
People are aware of the volatility and risk of investing in the market, but what about the risk of not staying invested? Staying invested through the market's ups and downs, especially during periods of volatility will give you a better chance of maximizing returns and reaching your long-term goals.
As the chart below shows, even missing a few of the best days in the market can have a material impact on the return!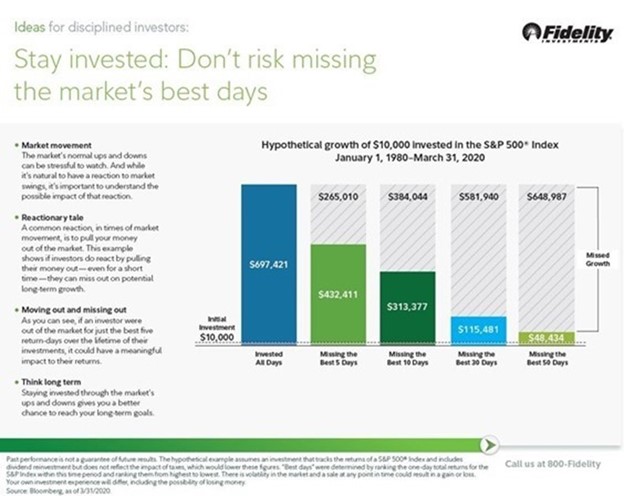 Source: Fidelity Investments, December 2020
#3: Is there anything that the markets cannot handle?
Historical performance has shown us the resiliency of the markets long term, regardless of the crisis or event that is taking place around the world. The chart below does a great job illustrating the resiliency of the S&P over the last 10+ years, and the power of staying invested for the long-term: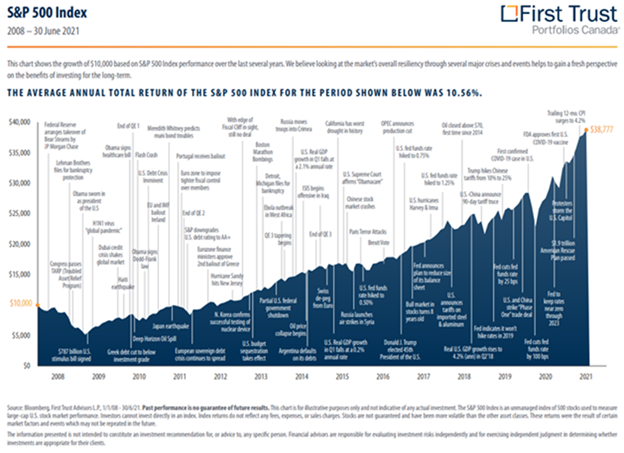 Source: First Trust, February 2022
#4: Understand your biases for objective investing
Becoming a smart "behavioural investor" requires being mindful of the common biases you may be guilty of, to help with your decision-making and keeping emotions in check. There are 4 main biases to be aware of when investing: Loss aversion, performance chasing, status quo, and familiarity. You can read here for information on how you can apply these 4 basic tools, to mitigate the impact your biases could have on your investment decisions.
#5: Buy the dip?
At the end of the day, the current bear market we are in has caused many great and profitable companies to be trading well off their highs, and for the long-term investor, this creates quite the buying opportunity to add additional value to their portfolio long-term (yes, even with a potential recession on the horizon). If you have extra money sitting on the sidelines you plan to put to use for your future, you may not find a better opportunity than this! The article here can help you decide whether you should be investing within a TFSA or RRSP (or both!) to maximize your after-tax savings.