Senior Vice President, Investment Advisor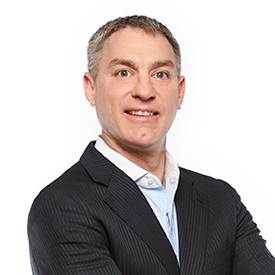 Kyle Richie's knowledge, passion, and ability to communicate everything from complex strategies to advanced planning with clarity had made him one of the most sought after professionals in the industry. He was named Wealth Professional magazine's top financial advisor in 2018 and prior to joining Richardson Wealth, Kyle was ranked the number one advisor at a leading Canadian financial services firm for ten years in a row.
His interest in the financial industry runs deep. At 12-years-old, Kyle discovered a board game called Stock Ticker, spurring his lifelong intrigue surrounding wealth and investing. After graduating from Western University with a degree in economics in 1997, Kyle worked for several major financial institutions before transitioning into the wealth management services side of things.
Over the past 20 years, Kyle has cultivated an in-depth understanding of the unique financial complexities facing physicians and dentists. It's an industry he has personal ties to – Kyle's father is an orthopedic surgeon, his uncle is a dentist, and his wife, mother, mother-in-law and sister are all nurses.
He joined Richardson Wealth in 2019, drawn to the entrepreneurial nature of the firm and the access to a broad scope of advice, services and products it would afford clients.
Kyle has been a keynote speaker at investment, insurance and medical industry conferences. He and his wife Melanie live in Brantford with their three children. Beyond work, he unwinds with golf, hockey, skiing and spending time with his family. Kyle and his wife Melanie believe in giving back and are active volunteers and donors to several charities including the local food bank, the United Way, World Vision, Amnesty International, Sick Kids Hospital.
Getting to know: Kyle
Hidden ambition: Get noticed at the local hockey rink during a game of shinny and get drafted to the Toronto Maple Leafs.
If you could meet anyone, past or present, it would be: Warren Buffett and Jerry Garcia.
Favourite book: Atlas Shrugged.
Favourite quote: "We are what we repeatedly do. Excellence, then, is not an art, but a habit"- Aristotle.
Favourite food: Medium rare steak, baked potato, caesar salad and a fine red wine.
Best piece of advice for financial security: It's not how much money you make, but how much you keep, how hard it works for you and how many generations you keep it for.
Favourite pastime: Traveling with family, watching live music and spending time at the cottage.