One of the toughest questions that I face as a Portfolio Manager is, "How are we doing financially compared to everyone else".
This is difficult to answer because it presumes that "everyone else" is living within a stereotypical financial idealism that can be compared from one household to the next. You know the scenario: You begin your first job with very little net worth, you work hard, maybe have a family, enter your peak earning years during which you build your net worth and your lifestyle. Eventually you retire and enjoy that lifestyle full time until you p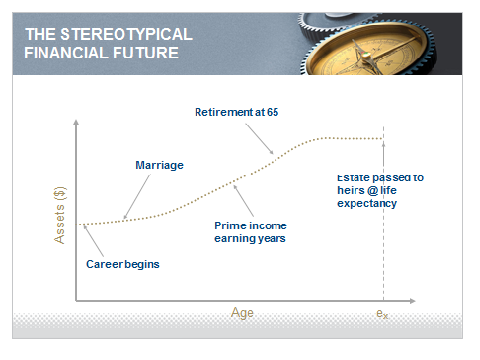 ass away at life expectancy and leave the entire value to your heirs.
[Text Box: Source: Sunlife Financial ]
In reality, very few Canadians actually follow this path as life can occasionally divert us unexpectedly in a different direction. A few of the potential risks to increasing one's net worth can include things such as divorce, loss of a business partner, a critical illness, a market turndown, taxes, death or (strangely) living too long.
Any one (1) of these risks can cause a significant negative impact on your net worth. Experiencing a
critical illness could cause a loss of income and/or higher expenses for you or your spouse. Often this income gap causes people to dip into their retirement savings thus eroding future portfolio growth. Would it make sense to off-load some of the risk onto someone else if you could? Just as you buy travel insurance before a vacation, it is possible to insure against a critical illness while on your life journey.
[Text Box: Source: Sunlife Financial ]
Critical Illness insurance was developed by a doctor and is a lump sum payment that occurs after diagnosis of a critical illness or survival of a surgical event. A critical illness could be a heart attack, cancer, a stroke or a whole list of other potential illnesses. The payment is not subjective – you either had the illness or you didn't. Nor is the payment based on your ability to work. You can do what you want with the cash.
Since we are thinking all logically right now, "doing what you want with the cash" might mean covering your expenses like your mortgage, utilities, lines of credit, or costs associated with your recovery (hospital costs, home care, business expenses, etc.). It might also mean keeping your retirement on track so that you can enjoy the lifestyle that you have worked so hard to build. What do you really enjoy doing? Golfing? Spending time at the cottage? Travelling? If you wanted, you could take the trip of a lifetime with the payment.
Like every insurance product, there is a cost or a premium. Canada is the only country that offers an optional return of premium either at death or if you haven't had a claim in the first 15 years. As such, Critical Illness Insurance can be viewed as a hedge on your investment portfolio that protects against a decline in health. Call me at 519-780-4171, and I'd be happy to explain how this works.
So, here is a tough question for you; "What is the one thing that YOU don't want to be forced to give up?"
To find out how we are positioning our client portfolios for the current economic conditions or to continue receiving our newsletter, check out www.phillipsfortress.com
The opinions expressed in this report are the opinions of the author and readers should not assume they reflect the opinions or recommendations of Richardson GMP Limited or its affiliates. Assumptions, opinions and estimates constitute the author's judgment as of the date of this material and are subject to change without notice. We do not warrant the completeness or accuracy of this material, and it should not be relied upon as such. Before acting on any recommendation, you should consider whether it is suitable for your particular circumstances and, if necessary, seek professional advice. Past performance is not indicative of future results. Richardson GMP Insurance Services Limited in BC, AB, SK, MB, NWT, ON, QC, NB, NS, PEI and NL. Additional administrative support and policy management are provided by PPI Partners. Richardson GMP Limited is a member of Canadian Investor Protection Fund. Richardson is a trade-mark of James Richardson & Sons, Limited. GMP is a registered trade-mark of GMP Securities L.P. Both used under license by Richardson GMP Limited.