One of my family's favourite summer pastimes is to go to theme parks. Rides at parks such as Canada's Wonderland can twist and turn you all day long. It seems like every year there is something new to entice you back to the park. The new roller coasters are being built higher and higher as engineering improves and rides such as Leviathan can drag you up over 300 feet before plummeting you lower at speeds of up to 148 km/hour. What always gets me is the buildup of anticipation as they slowly climb and you know that eventually you are going to face a drop.
Yup, that's a metaphor for the markets. In my July newsletter entitled "Bond…Long Bond" (available at www.phillipsfortress.ca under the Blog tab) I discussed a way of protecting against that eventual drop in the markets. It is worth repeating:
"In the short term, however, bonds can be heroes. When there is chaos in the world, the stock markets can experience higher levels of volatility. Investors typically react to economic or geopolitical shocks by pulling their money from the stock market and turning to government issued bonds because they represent safety. This can cause a jump in the price of long term bonds which can be used to offset the declining stock market."
Please note that I am not endorsing buying long-term bonds now. Since the above comment was published, the stock markets reached their recent peak and began to decline (US market in red, Canadian market in blue in chart below). Bonds have moved higher as investors have moved to safety (green line in chart below).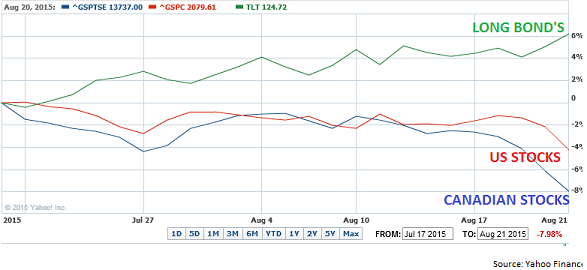 Many investors are going to be surprised when they receive their August statements in mid-September. Especially if they didn't pre-emptively protect their portfolio by holding some long-term bonds. If you know of anyone who went for the full roller coaster ride of the markets, please have them call us. There is a much better way to invest and you can leave the thrills at the theme park.
To find out how we are positioning our client portfolios for the current economic conditions or to continue receiving our newsletter, check out www.phillipsfortress.com
The opinions expressed in this report are the opinions of the author and readers should not assume they reflect the opinions or recommendations of Richardson GMP Limited or its affiliates. Assumptions, opinions and estimates constitute the author's judgment as of the date of this material and are subject to change without notice. We do not warrant the completeness or accuracy of this material, and it should not be relied upon as such. Before acting on any recommendation, you should consider whether it is suitable for your particular circumstances and, if necessary, seek professional advice. Past performance is not indicative of future results. Richardson GMP Limited is a member of Canadian Investor Protection Fund. Richardson is a trade-mark of James Richardson & Sons, Limited. GMP is a registered trade-mark of GMP Securities L.P. Both used under license by Richardson GMP Limited.