Martin Boulianne

CPA, CA, FCSI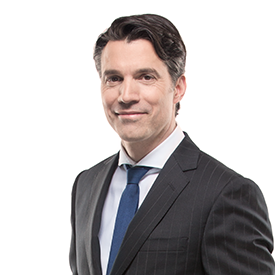 During his 20 years in the investment business, Martin Boulianne has had first-hand experience in its every facet, so he offers a 360-degree view of anything clients could need and want. As a Chartered Professional Accountant, Martin is well positioned to provide wealth management for his select roster of affluent business owners and their families, taking a conservative approach and respecting each client's risk tolerance, objectives and business considerations. Martin understands that entrepreneurs take enough risks with their companies and don't want to speculate with their hard-earned capital.
Martin has also managed compliance, back office operations and branches for leading investment firms; was an auditor/examiner for the Montreal Stock Exchange, where he gained direct exposure to equities, bonds, credit, futures and options trading; and has also worked with a derivatives firm, where he experienced the institutional side of the industry and developed a keen sense for risk management and regulatory compliance.
Martin obtained his BA in Business Administration from the Université du Québec in Chicoutimi in 1993. He is also a Chartered Professional Accountant (CPA) and Fellow of the Canadian Securities Institute (FCSI). Committed to continuous professional development, Martin has completed more than a dozen courses with the Canadian Securities Institute, including Portfolio Management Techniques, Investment Management Techniques, Canadian Options, Conduct & Practices Handbook, Professional Financial Planning, as well as management courses. Martin is also licensed as a Life Insurance Underwriter.
Prior to joining Richardson Wealth in 2016, Martin worked with ScotiaMcLeod, advising investors and overseeing their Immigrant Investor Program. He assisted foreign business owners to settle in Canada as permanent residents and citizens and set down financial and professional roots. Today, new Canadians still comprise one-fifth of Martin's clientele; the rest of his clients are established Canadians who are busy running businesses and need the integrated, full-service platform Martin can provide at Richardson Wealth.
Martin and his partner, Marie-Josée have a daughter and son. He is involved in his community, where he coaches his son's baseball league and also volunteers as a canvasser for the Heart & Stroke Foundation. He keeps active playing tennis and golf with clients, and enjoys skiing.