The Bank of Canada (BOC) published their "Financial System Review" in mid-December which can be found here.
The press release for this report attracted widespread attention, as the headline stated that the BOC estimates that Canadian housing is overvalued by 10-30%.
Most of the reaction came because other government leaders had stated recently that there is no housing bubble. For example, Prime Minister Harper dismissed reports of a housing bubble (link).
I like that September story because it quotes me and refers to my interview with CBC Exchange host Amanda Lang!
Finance Minister Joe Oliver also is a serial bubble denier, as a December 15 CBC report states, "his [Oliver's] department is very carefully monitoring household debt levels and the real-estate market, but said he doesn't think there is a housing bubble."
I guess that's supposed to make us feel better; that our political leaders are sure there's no housing bubble and their staff are "carefully monitoring" the situation. But it's confusing when the Bank of Canada disagrees. After all, who is more believable? And, if there's no bubble, why is the BOC sounding an alarm?
The Bank of Canada has warned repeatedly that the "elevated level of household indebtedness" is the #1 risk to Canada's economy. But this is the first time they've stated flatly that housing is overvalued. And the two are directly connected.
I was talking recently to an Edmonton-based couple who are engaged to be married. Both have good jobs. The young man said a mortgage broker had assured them that they could borrow up to $1,000,000 to buy a house. This kind of aggressive lending for first-time-buyers in Canada is one source of elevated indebtedness. Without a need to buy expensive housing, young couples would never even think about taking on that amount of debt.
The key chart (2-A) of the BOC report shows the level of overvaluation. The previous two peaks in house prices were reached in 1982 and 1990. A few readers will remember how bad things got in the years after those peaks.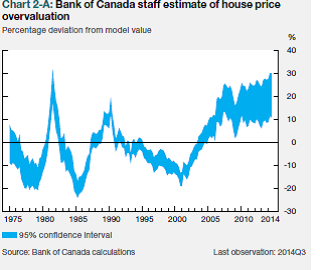 What the chart shows clearly is the drop in house prices that came after those peaks. House prices went from being overvalued by about 30% in 1982 and 20% in 1990 to being UNDERVALUED by about 25% in 1985 and 20% in 2000 respectively.
When any bubble bursts, prices usually go from overvalued to undervalued. The price correction overshoots on the down side just as the bubble overshoots on the upside. So, the correction after the recent peak will see prices go from 10-30% overvalued to 20-25% undervalued. That means a price decline of 30% to 55% from top to bottom. And a drop like that is called a "crash", not a "correction".