China used to be an economic growth leader, with expansion rates of close to 10 percent for years, unrivaled in any large economy.
During the 2008-09 global crisis the Chinese government launched a vast stimulus program that lifted China and even the world out of the doldrums.
Will the Chinese stimulate enough this time to engineer a robust rebound?
China announced a stimulus program on Wednesday April 27, 2022, which boosted the Chinese stock market. The focus for this stimulus is infrastructure, so companies that specialize there went higher.
Prior to this week, China's main stock market index, the Shanghai Shenzhen CSI 300 index or CSI 300, was the worst performing major index in the world, having lost about 21 percent since January 1.
Over the last twelve months the CSI 300 is down about 23 percent. For comparison the S&P 500 is down about 12 percent and the TSX Canadian index is down a mere 2 percent. (Crude oil!)
Even the technology-heavy US NASDAQ is down "only" 19 percent.
So, China is struggling. One of the most important sectors, residential real estate construction and sales, is in a major slump. Several major developers in are default on their debt payments, including China Evergrande, and the largest developer, Country Gardens, is looking at a sales slump.
Country Garden's sales target for this year, 455 billion yuan, looks out of reach. Sales are impacted severely by virus outbreaks and general anxiety. That target was already substantially reduced from last year's actual sales of 625 billion yuan.
Real estate is a huge part of China's economy, with estimates as high as 30 percent when including all related activities such as sales and finance.
After many quarters of annual growth between 10 and 20 percent China's property market is in steep decline.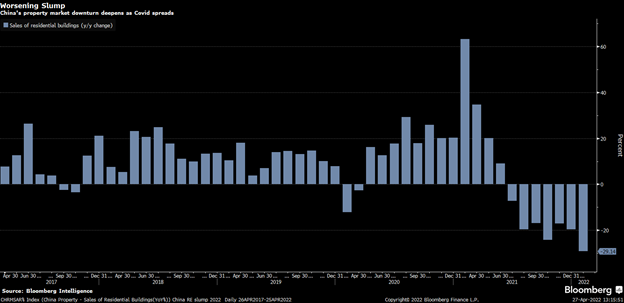 China's GDP grew at only 3.1 percent annualized in the first quarter. For China this is practically a standstill. Instead of being a global leader, China is now a risk factor that might drag down the world's economy. The country's growth target of 5.5 percent looks impossible now.
The announcement of a new stimulus program won't be enough to avoid an outright decline in GDP in the second quarter as the lockdowns in large cities only started at the end of the first quarter.
The announcement by President Xi Jinping mentioned airports, transportation and energy and water conservation projects. The statement also urged increased fiscal spending and better financing for construction. Many of those decisions are taken at the local government level, and those governments are very dependent on real estate land sales for their income.
The central bank cut the minimum size of reserves that banks are expected to hold, trying to encourage more lending for real estate development.
But it is unlikely that these measures will be enough. China needs to get ready for a long period of slower growth.
The two-decade era of China's repeated stimulus spending lifting all boats in China and elsewhere is over.
Hilliard MacBeth
The opinions expressed in this report are the opinions of the author and readers should not assume they reflect the opinions or recommendations of Richardson Wealth or its affiliates. Assumptions, opinions and estimates constitute the author's judgment as of the date of this material and are subject to change without notice. We do not warrant the completeness or accuracy of this material, and it should not be relied upon as such. Before acting on any recommendation, you should consider whether it is suitable for your particular circumstances and, if necessary, seek professional advice. Past performance is not indicative of future results. The comments contained herein are general in nature and are not intended to be, nor should be construed to be, legal or tax advice to any particular individual. Accordingly, individuals should consult their own legal or tax advisors for advice with respect to the tax consequences to them, having regard to their own particular circumstances.. Richardson Wealth is a member of Canadian Investor Protection Fund. Richardson Wealth is a trademark by its respective owners used under license by Richardson Wealth.