François Normandeau

B.B.A., CIM®
Portfolio Manager, Investment Advisor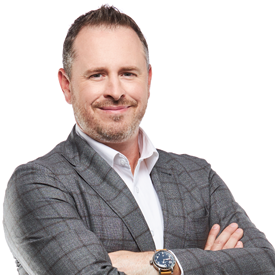 Finance has always clicked with François Normandeau. Since graduating from HEC Montreal with a Bachelor's Degree in Finances in 2000, that's what he's wanted to make his life about. A born problem-solver just as comfortable deciphering market jargon for clients as he is creating computer algorithms to differentiate his approach to portfolio management.
François developed an entrepreneurial mindset early on. He started working at a young age, and after business school, François found his way into corporate finance, working with defence firm CAE for five years. But he was always drawn to portfolio and investment management for people – he wanted to play a role in helping people reach their goals through intelligent portfolio design.
He divided the next 15 years between major financial services firms before joining Richardson Wealth for the entrepreneurial autonomy it offered combined with a first-class suite of financial planning resources. He's retained relationships with the majority of his clients over the past 15 years and is known to work with them to raise their overall understanding of the markets and involve them in his process.
In addition to his Bachelor of Finance, François currently holds some of the highest designations for wealth management in the country including a Chartered Investment Manager (CIM) designation and recognition as a Fellow of CSI (FCSI).
On a personal note, François loves traveling with his spouse and their two kids and is heavily involved in coaching their sports teams. He likes staying active and is training in mixed martial art, playing hockey and golf. He also plays the piano and enjoys cooking for family and friends.